A hop to pristine islands of Muhumaa and Saaremaa and a special stay at Pädaste Manor
1 or 2 nights
Estonia's largest and third largest island are almost addictive: it is best to spend one's summer holiday away from the mainland, in a completely different scenery, while staying at a tourism farm; whereas in the winter, it is superb to relax at spas.
Exciting destinations also include the famous Kaali Meteorite Crater Field, which are the first scientifically proven meteorite craters in Europe and the Panga Cliff, perfect for scenic walks; the Järve beach, which is a great spot for sunbathing. Small islands Vilsandi, Abruka, Ruhnu and Viirelaid are great locations all year round.
You could choose to drive there or take a local bus and cross the straight by ferry. Another option is to fly – there are many flights from Tallinn to Kuressaare (largest town in Saaremaa) daily.
Or drive one way and fly the other. 
SAAREMAA EXTENTION EXAMPLE
DAY 1
Departure to Saaremaa (Duration ca 2h)
Ferry from Virtsu to Kuivastu
Lunch on Muhu island, at Vanatoa farm-restaurant, followed by a visit to  Koguva Village
The village of Koguva on the west coast of Muhu Island is one of the most outstanding examples of Estonian peasant architecture.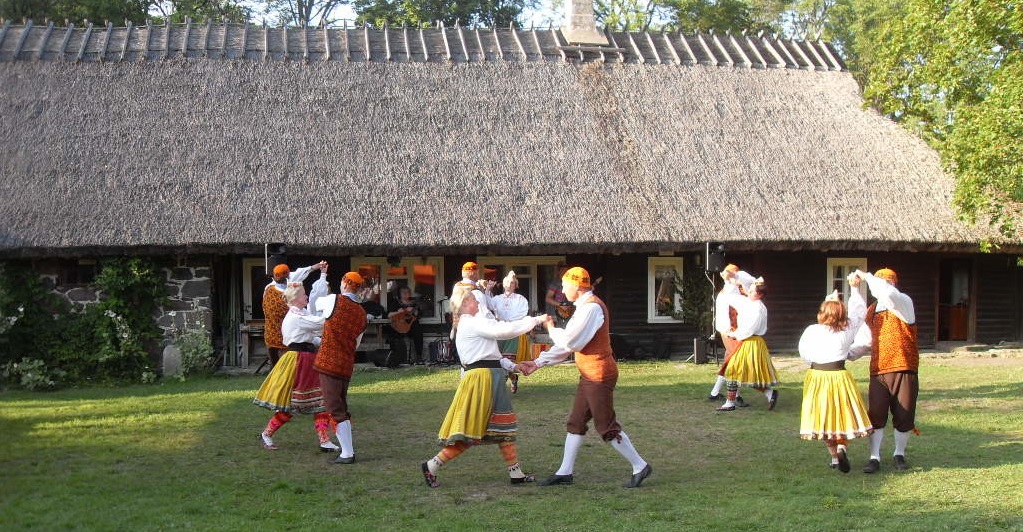 At around 15.30 arrive at Pädaste manor.
The centuries-old Pädaste Manor on the island of Muhu is the only five-star hotel outside Tallinn in Estonia. The fully renovated manor complex has been turned into a luxury hotel and a spa complex.
After check-in have time to relax, visit the spa, unwind in the manor houses´ well-groomed park.  Perhaps check out if the manor house is offering a multiple-day retreat, what they occasionally do. 
A dinner in restaurant Alexander promises to be an experience – they have been nominated the best restaurant in Estonia many times.
DAY 2
After breakfast departure to Angla Windmill park and perhaps take part of the bread workshop. If you are interested in mediaeval architecture and art, visit  Karja Church - built in the beginning of 14th century, the church has retained almost unchanged its initial shape and is one of the richest of sculptures in the whole Northern Europe. Karja church is the smallest church on Saaremaa.
Saaremaa is famous for its meteorite craters at Kaali Meteorite  field  - legends of Ultima Thule are attached to it and it is the rarest nature wonder in Estonia and most spectacular of a kind in Eurasia.
By lunch-time you will arrive in Kuressaare – the largest town in Saaremaa. It offers many ambient cafés, restaurants, so surely you will not go hungry.
Another option is to check out schooner "Hoppet" – if it is not sailing to nearby Abruka island, it should be docked by Kuressaare Castle  and serving as a restaurant – offering only the local produce, be it catch of the day or Saaremaa famous lamb.
If you are not in a hurry back to Tallinn this evening, why not extend the stay to two nights. Take a sunset cruise on the already mentioned Hoppet and stay in one of many Kuressaares´ spa-hotels. Perhaps even try one of many Saaremaa gins, along with tonic they have as a tradition brewed from the Market Square Christmas tree…
But if duty calls – enjoy a day in Kuressaare, have a dip at the beach and catch a flight back to Tallinn.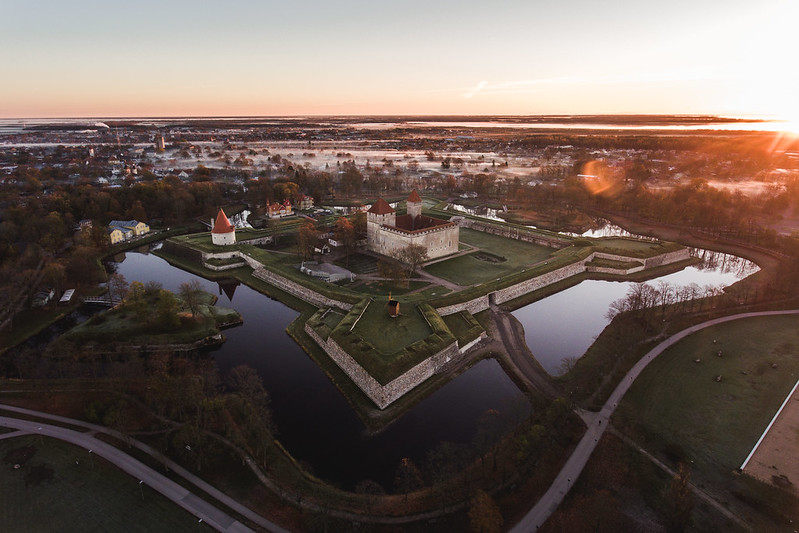 West Meets East or Vice Versa – border town Narva, Pühtitsa Dormition Convent, adventure parks.
1 or 2 nights
This example program can of course be modified according to your interests, time limit and fitness level. You can add or remove attractions according to your taste. Also, you can alternate means of transportation, i.e you can take a 2.5h train straight to Narva or simply rent a car.
In this example we take you to Eastern Estonia and combine culture and history with adventure and nature hikes.

Day 1
We start with a Russian Orthodox Pühtitsa Dormition Convent or Kuremäe Klooster, the only one that stayed open during the Soviet times and is still active. After that we head to Narva, the easternmost town in Estonia where one can get a glimpse of Russia – there are two medieval fortresses staring at each other over Narva river, one on Estonian soil and the other already in Russia. The town is a fine example of Soviet architecture, being clean, well kept and full of interesting stories and history. Overnight at Meresuu Spa Hotel in Narva-Jõesuu.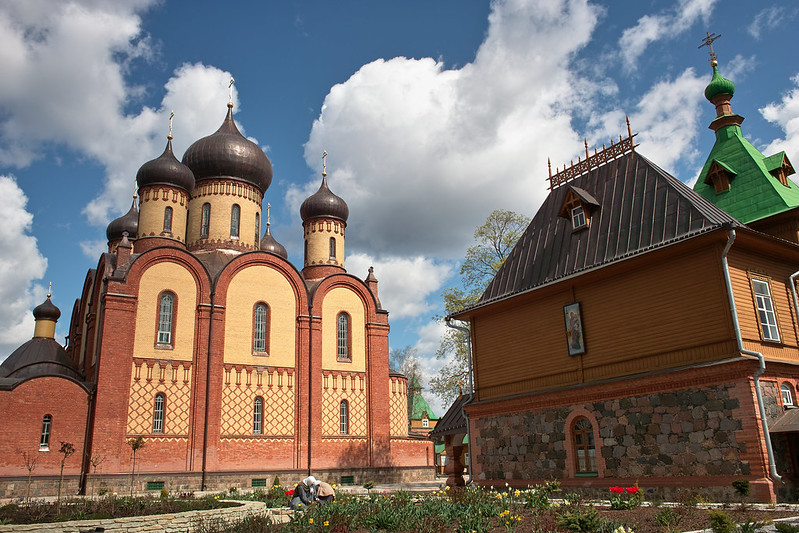 Day 2
After breakfast we will head back West and adventure does await us! Kiviõli Adventure park is created on old coal-mine residue ash hills and it is a fine example how nature has taken back old industrial landscape. One can hike, bike, climb, zip-line, play discgolf, go-cart, buggy-trail, mud-ride… and the list goes on! Another option is to go completely off-road by old military car or 4x4 wheels, take a speedboat on Ardu quarry – a picturesque man-made body of water. On that quarry a couple of adrenaline enthusiasts from Adrenator offer an on-water sauna experience – try that out! We suggest lunch at a White Guide 2020 restaurant Tulivee (or simply Moonshine…) by Purtse small harbour which also features a small museum about bootlegging (smuggling)vodka in the 19th century. As a cherry-on-a-cake: overnight and dinner at splendid Vihula Manor and Spa.
At Vihula you can become a vodka expert!
Vodka distillation was historically one of the main economic activities of Vihula Manor. Initially the production was covering only the needs of the estate itself, but later the production was expanded and a vast part of the vodka production was sold to the state and to the neighbouring endless market of Russian Empire.Today the Distillery houses the Vodka Museum with a small exhibition about the history of vodka distillation in Estonia and at Vihula Manor. After entertaining vodka history tour, there is a degustation of 5 different sorts of vodka and you hear stories about traditions how to drink vodka. Taste also freshly baked black rye bread, pickles and salted pork – all the snacks that suit perfectly to vodka.


DAY 3
Before heading back to Tallinn we suggest a hike in Viru bog, Estonia´s pride and joy landscape type, with an experience lunch in free air in the bog.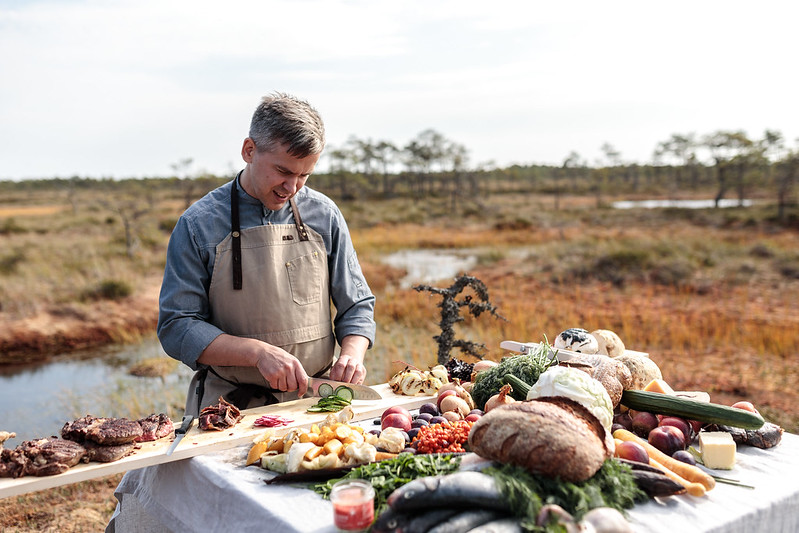 UNESCO Heritage Listed Kihnu Island, Pärnu spa-town and Soomaa wetland
1 or 2 nights
If you decide to go South-West from Tallinn, we suggest a bog – needless to say, UNESCO listed island famous for its sturdy ladies (see reference to articles below) and a real treat for hedonists – spa-town Pärnu with a stay at a spa-hotel Hedon.
This example program can of course be modified according to your interests, time limit and fitness level. You can add or remove attractions according to your taste. Also, you can alternate means of transportation, i.e simply rent a car or take a local bus.
DAY 1
Depart in the morning (2h drive max) towards Soomaa – literally The Swamp Land .
Soomaa boasts giant bogs surrounded by forests, both wide and narrow rivers, diverse flood-meadows and flower-filled wooded meadows, where one can enjoy the beauty of untouched nature. Visitors might know Soomaa best for its great flood or the so-called fifth season, when the water from melted snow or heavy rains floods all the roads and leaves canoes as the only viable vehicle. In the autumn, be sure to walk Hüpassaare Study Trail or explore the primeval forest on the Kuuraniidu boardwalk.

After a hike – you can choose between different difficulty levels and lengths, head to Tori Cider and Wine Farm and visit to a truly Nordic vineyard for lunch and wine-cider tasting.
Around 15.30 arrive to Pärnu, the unofficially nominated summer capital of Estonia with charming wooden architecture, soft sand beaches and relaxed vibe.
Accommodation for a night or two at Hedon Spa Hotel. If interested in spa treatments, make sure to book ahead!
Should you be interested in a guided tour of this old Hanseatic city – local tour office can help out with a guide.
DAY 2
After breakfast transfer to ferry terminal and short 1h ferry ride to UNESCO listed Kihnu island.
The island is home to a close-knit community of about 700 inhabitants, who value old traditions, the language and songs of Kihnu. Singing and dancing are integral parts of life for the locals.Throughout centuries, the men of Kihnu have spent most of their time at sea, while the women have become keepers and carriers of cultural heritage, which includes handicrafts, dances, games and music of the island. To this day, you can see the women of Kihnu riding motorbikes wearing Kihnu homespun striped skirts (a kört in Estonian).
To get as much as possible from Kihnu between the two ferries, we would suggest the following:
…and yes, you are bound with the ferry schedule. There are a few home accommodations and hostels on the islands, if you miss the ferry, though.
9.30 Arrival in Kihnu. Transfer in a truck to the Kihnu museum
10.00 Visit of the Kihnu museum
11.00 Kihnu church
12.00 Kihnu Lighthouse
12.30 Lunch at the farm house Metsamaa
13.30 Visit of the typical house of the island Kihnu, drive a motorcycle as a local
14.30 Folk music concert on the island Kihnu
16.15 Ferry back to Pärnu
Drive from Pärnu to Tallinn is an hour and half. So you can decide, whether to stay and be a hedonist for another night or head back to the capital.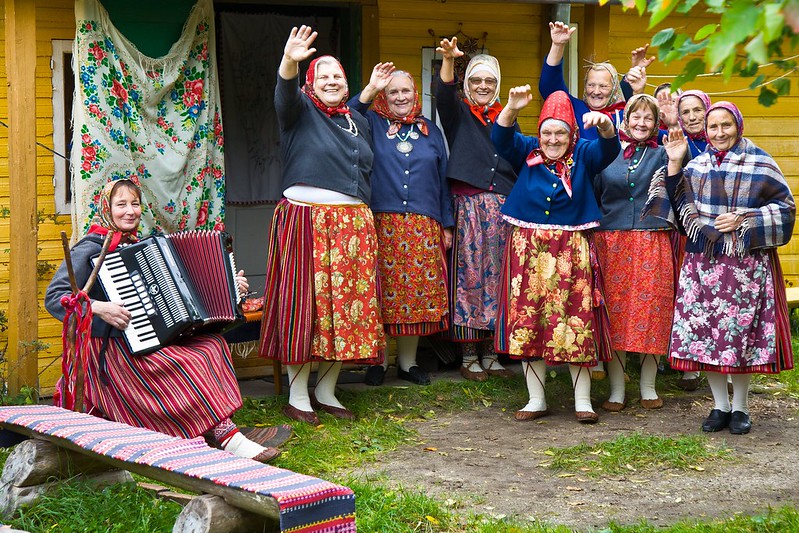 https://www.visitestonia.com/en/where-to-go/west-estonia/parnu
https://www.visitestonia.com/en/where-to-go/islands/kihnu-island
www.visitestonia.com/en/cider-tour-in-tori-cider-and-wine-farm-at-the-edge-of-soomaa
https://www.visitestonia.com/en/hupassaare-study-trail
https://www.puhkaeestis.ee/et/hedon-spa-hotel
https://www.visitestonia.com/en/where-to-go/south-estonia/soomaa-national-park
https://www.nationalgeographic.com/travel/destinations/europe/estonia/pictures-kihnu-island-culture-matriarchy/
…there are many other fun, culturally invigorating, off the beaten track tours available. Ask one of our trusted tour operators