Whilst better known for its exceptionally well-preserved and beautiful Old Town, the regeneration of derelict industrial areas and shipyards into food and cultural hubs means there is more to explore in Tallinn than its medieval past. A prominent contemporary art scene, emerging fine-dining culture and extensive technological developments has transformed Tallinn into a prime location for a foodie city break. Visit Estonia has created a unique, hand-drawn map to showcase the must-see alternative places to visit in Tallinn.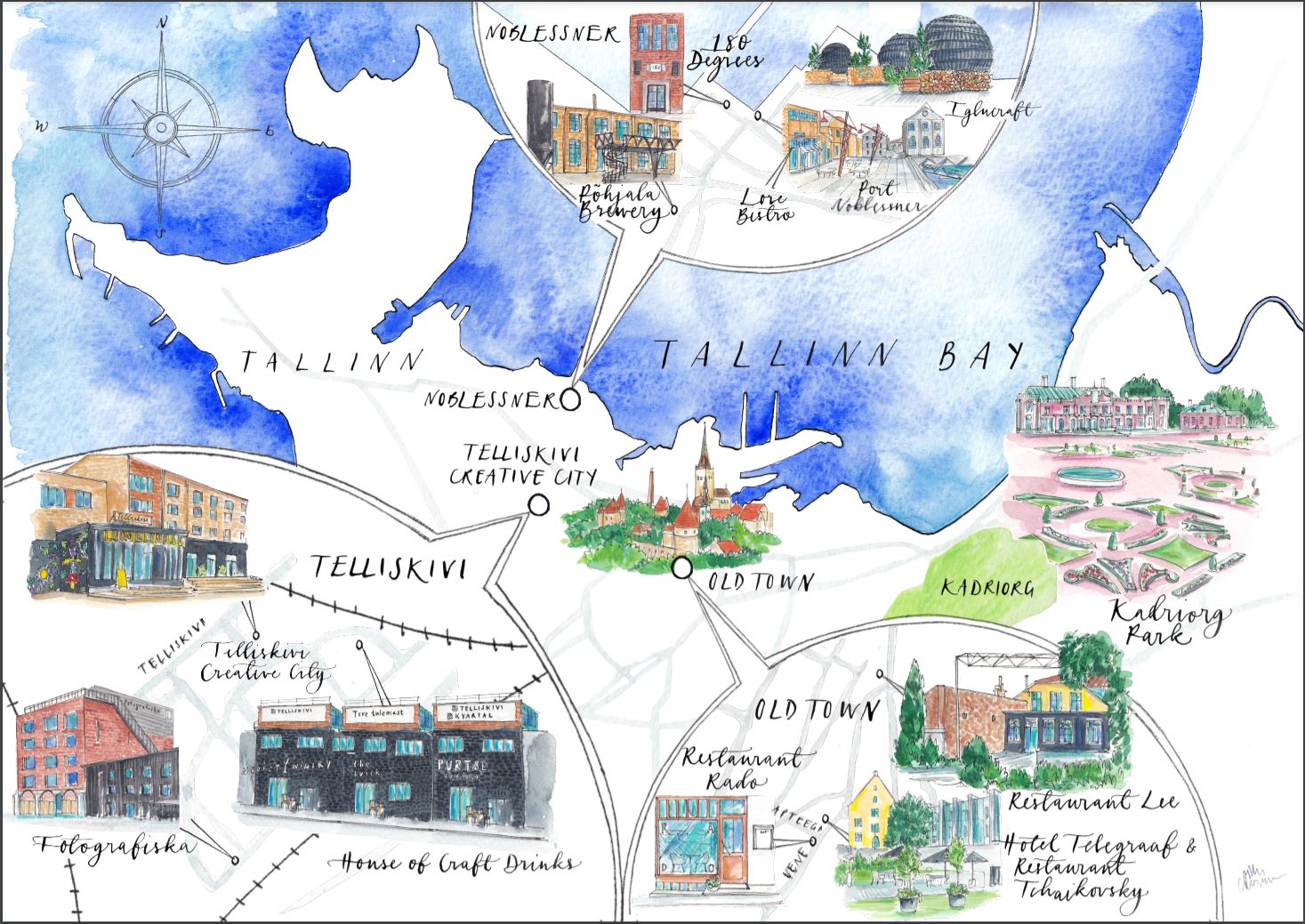 TELLISKIVI
 The former industrial factory complex near Tallinn's Baltic railway station was transformed into Tellskivi Creative City in 2009 and is now home to approximately 250 different companies. Inspired by similar regeneration projects in Stockholm and Helsinki, Telliskivi is now the largest creative centre in Estonia, popular with locals and tourists alike. Famous for its array of vibrant – and often thought-provoking – street art, Telliskivi offers a bohemian area to shop, dine and socialise. A street-art tour around Telliskivi is one of the best ways to explore the area.
Fotografiska Tallinn, a fine-art photography centre that opened in 2010, holds regular exhibitions featuring artists from across the globe. On the top floor of the museum is a sustainable restaurant and rooftop bar. Restaurant Fotografiska and Fotografiska Roofbar sources fresh, local ingredients selected carefully for maximum use, servable in a dish, and as part of a specialist cocktail. The limited leftovers are composed and reused by the farmers that supply the restaurant, creating an eco-friendly lifecycle for sourcing and disposing of ingredients, as well as aiming for zero waste.
To round off a trip to Telliskivi, the House of Craft Drinks is an essential visit. The building is made up of small and independently owned bars, of which Purtse Tellskivi Tap Room is a popular stop. Selling an array of beers, ciders and stouts, visitors can also tour the brewery, learning about the origins of the building and attend a tasting session. For gin-drinkers, the neighbouring Junimperium Distillery, which opened in 2019 is highly recommended. Home to the Estonia's most awarded gin, a visit to the distillery gives an insight into the production methods of an artisan gin as well as a bar to enjoy sampling their products. For those in search of a non-alcoholic beverages, The Brick Coffee Roasters offer a variety of specialist coffees.
NOBLESSNER
Situated in northern Tallinn on the Baltic Sea, the former submarine shipyard, Noblessner, has been transformed into one of the most vibrant areas of the capital, with further apartments being built. Noted for its distinctive and colourful architecture, the redevelopments of Noblessner merge old and new, with old factory halls now transformed into galleries, eateries and nightlife venues.
Located in the buildings of Port Noblessner is the Kai Art Centre, one of Estonia's most popular contemporary art centres, opened in October 2019. The century-old building features temporary art exhibitions and a cinema, as well as outdoor sea view areas. Located on the centre's ground floor is the favoured, community restaurant, Lore Bistro. Celebrated for its eclectic menu, Lore Bistro seeks to combines comfort-food classics with a modern twist. Their menu is inspired by the age-old tradition of breaking bread, featuring food discovered on global adventures that is designed to be shared.
A particular culinary stand out in Noblessner is 180°, an elegant, fine-dining restaurant with views of Tallinn's coastline and the Baltic Sea. Run by Michelin-starred chef Matthias Diether, 180° features a tasting menu showcasing the very best in modern Estonian cuisine, fully immersing guests in this with a tasting menu. For beer-lovers, Põhjala Brewery is highly recommended. Named by Ratebeer as one of the world's top 100 breweries, Põhjala has a selection of over 20 craft tap beers and complementing bar snacks. Visitors can enjoy sampling the different beers, as well as joining a tour of the brewery with a specialist guide.
In summer 2021, Iglupark opened on the edge of a former dock. The Iglus - mostly individual sauna pods - can be rented with a group of friends to enjoy an afternoon or evening overlooking the Baltic Sea. One Iglu is a bar and others have been made into sleeping pods, or spaces to work.
OLD TOWN
Although many flock to Tallinn's Old Town for to see its beautiful Hanseatic architecture, it shouldn't be overlooked for dining options. A popular choice is Restaurant Rado, a cosy restaurant that honours seasonal ingredients. The menu changes each day based on what is sourced at Tallinn Central Market, but always includes meat and fish dishes, as well as a vegetarian option. Restaurant Rado offers a warm and welcoming atmosphere that feels almost like you are dining at a friends' house. Located nearby is Restaurant Lee, a place where local ingredients are combined with impressive techniques. Recently renovated, the restaurant was refurbished by the owner and their family friends, opening in 2020. The focus is on using ingredients from small producers in farms and forests, always offering a wide selection for vegans and vegetarians.
For those looking to stay in the Old Town area, Hotel Telegraaf is located near to the Old Town Square. Built in 1878, the elegant hotel was once the former central office of the Estonian Telegraph. Today it is a luxurious five-star hotel, noted for blending its modernity with the historical style of the building. The hotel houses a luxurious spa, offering multiple saunas and pools, as well as a fine dining restaurant.