They say that Estonians are the most stationary nation in Europe – thousands of years ago, our forefathers gathered on this land and decided to stay. We carry with us traditions and wisdom that has been passed down from generation to generation. The roots of our story go way back. Now we look back and appreciate our old recipes and ancient customs. We want to prepare traditional dishes in a way that all Estonians know and love while also adding a contemporary touch.
The layered beetroot and herring salad (translated from Russian as "Herring under a winter coat salad") originates from East Slavic cuisine. During Soviet times, this salad, with its special sauce made of sour cream, mayonnaise and mustard, was prepared for celebrations along with potato salad and the Russian beet and potato salad. Eel has been a delicacy for Estonians since the Middle Ages, when it was served during formal dinners. In Soviet times, eel was very hard to come by and therefore considered a real jewel on a holiday dinner table.
Course: starter

Serves: 10

Preparation time: 2 h

Difficulty: medium

Ingredients
400 g smoked eel
400 g potatoes
2 small onions
4 eggs
400 g beetroot
500 g carrots
300 g sour cream
600 g Hellmann's mayonnaise
Salt
Pepper
Directions
Boil the potatoes and carrots until tender, leaving the skin on.
Place the beetroot (with the skin on) in the oven at 180 ºC for 1,5 hours. Check that it is cooked before removing from the oven.
Boil the eggs.
Peel the potatoes, carrots and beetroot. Grate all components with a coarse grater and place in separate bowls.
Finely chop the onion.
Clean the smoked eel or some other preferred smoked fish and crumble between your fingers.
Mix together sour cream and mayonnaise. Season with salt.
In a glass bowl, layer the ingredients for the dish: place the smoked eel in the bottom, add the grated potato and then the chopped onion. Then cover with half of the sauce. Add grated beetroot and then the grated carrot. Cover with the rest of the sauce. Decorate with finely grated egg.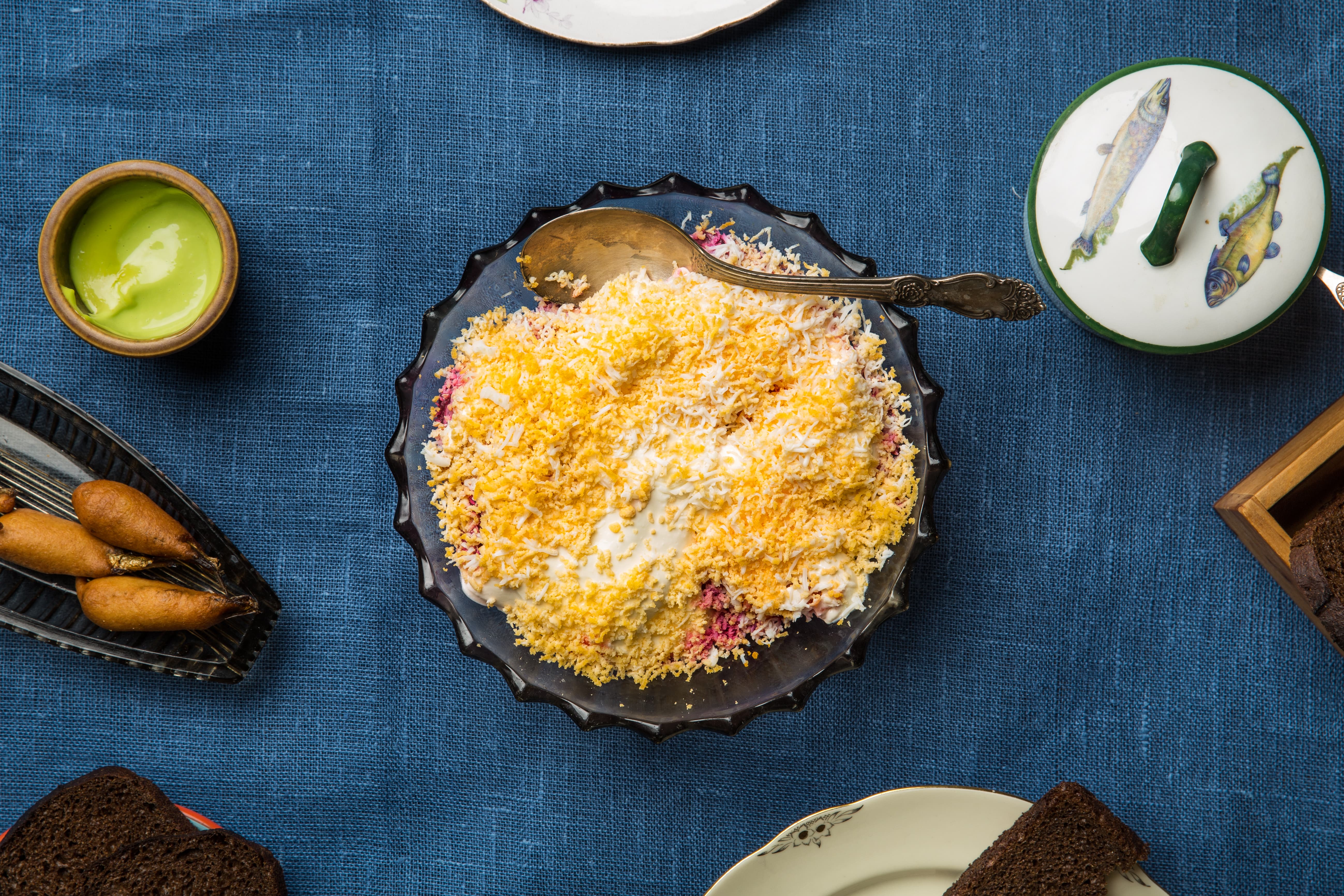 Photos by: Johannes Hõimoja