Tallinn offers quite a selection of amazing vintage and second-hand shops for hipsters, fashionistas, and anyone with an eye for style! Have a look at these 5 shops we've chosen for you and get inspired for a shopping visit.
Vintage Fankadelik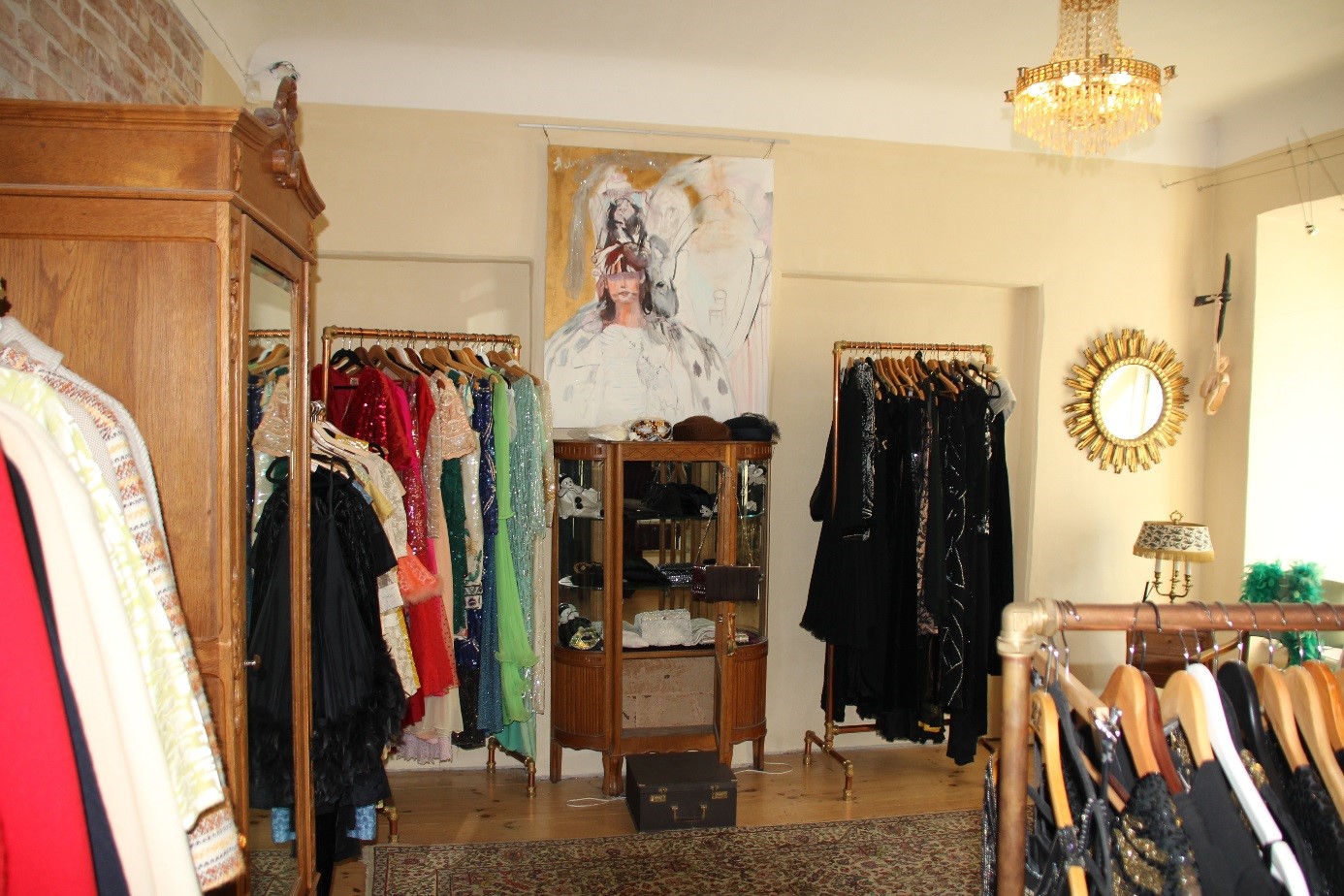 Fankadelik is special. It kind of feels like stepping into a cross-over between The Great Gatsby and The Devil Wears Prada.
Once you've found your way up the "hidden stairs", the first room you'll enter is splashed with colors, denim, leather, LP records, and some Andy Warhol-like paintings hanging from the ceiling. Once you go beyond the massive curtains of elegant scarlet velvet, the 1930s reveal themselves to you as if you were looked into your grandmother's closet as a child.
The owners of Fankadelik have both spent time and effort traveling around the world, handpicking all the items so you can find some real treasures here. Vintage handbags from Gucci and Dior, quality fabric Yves Saint Laurent dresses, sequin and fur, leather, and lace. Fankadelik is a space fill with vintage quality.
Please note that Fankadelik only sells womenswear.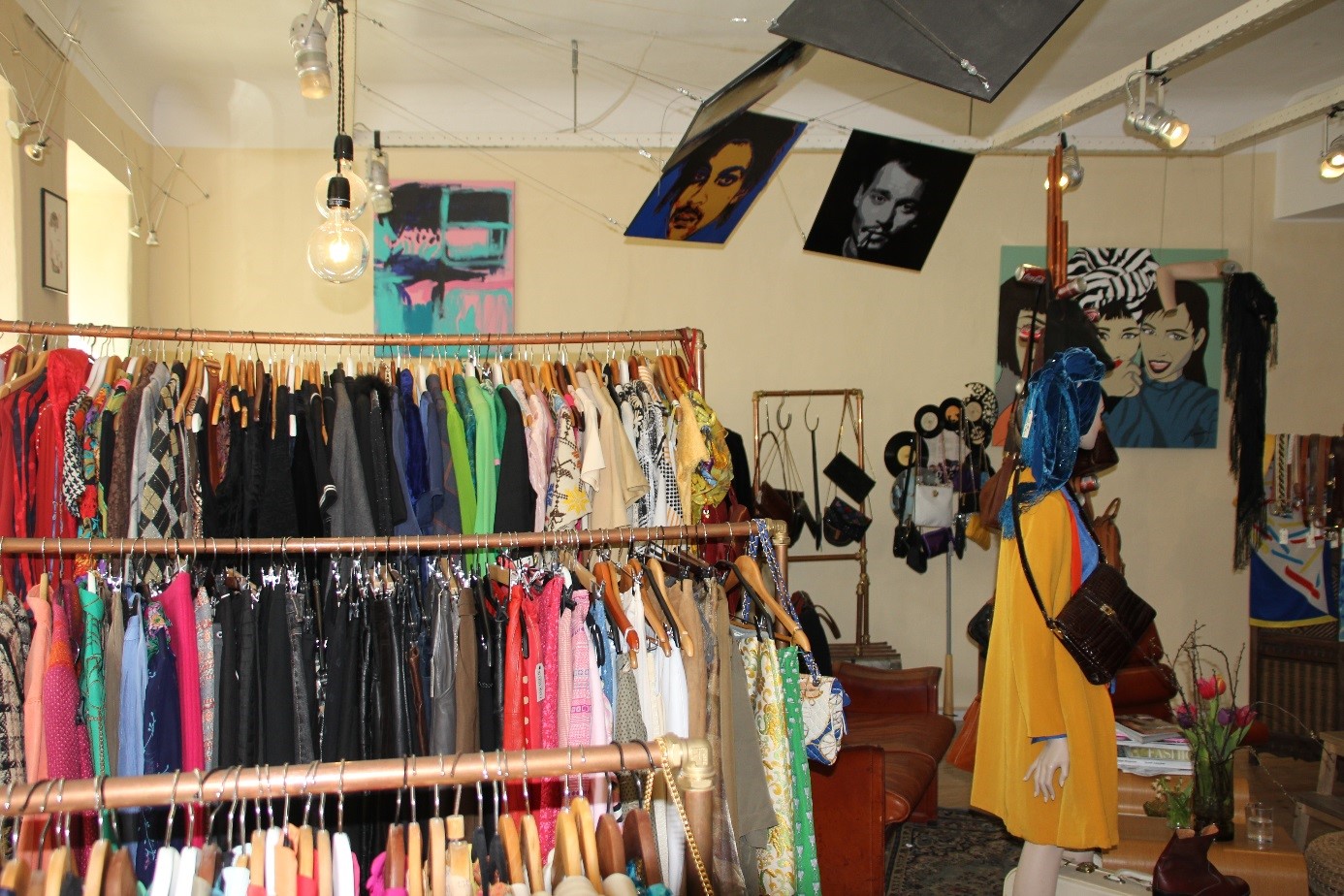 Where to find it: Vana-Viru 6, Tallinn
How to get there: Due to its location, it's best to get to Tallinn Old Town and walk.
Sveta Vintage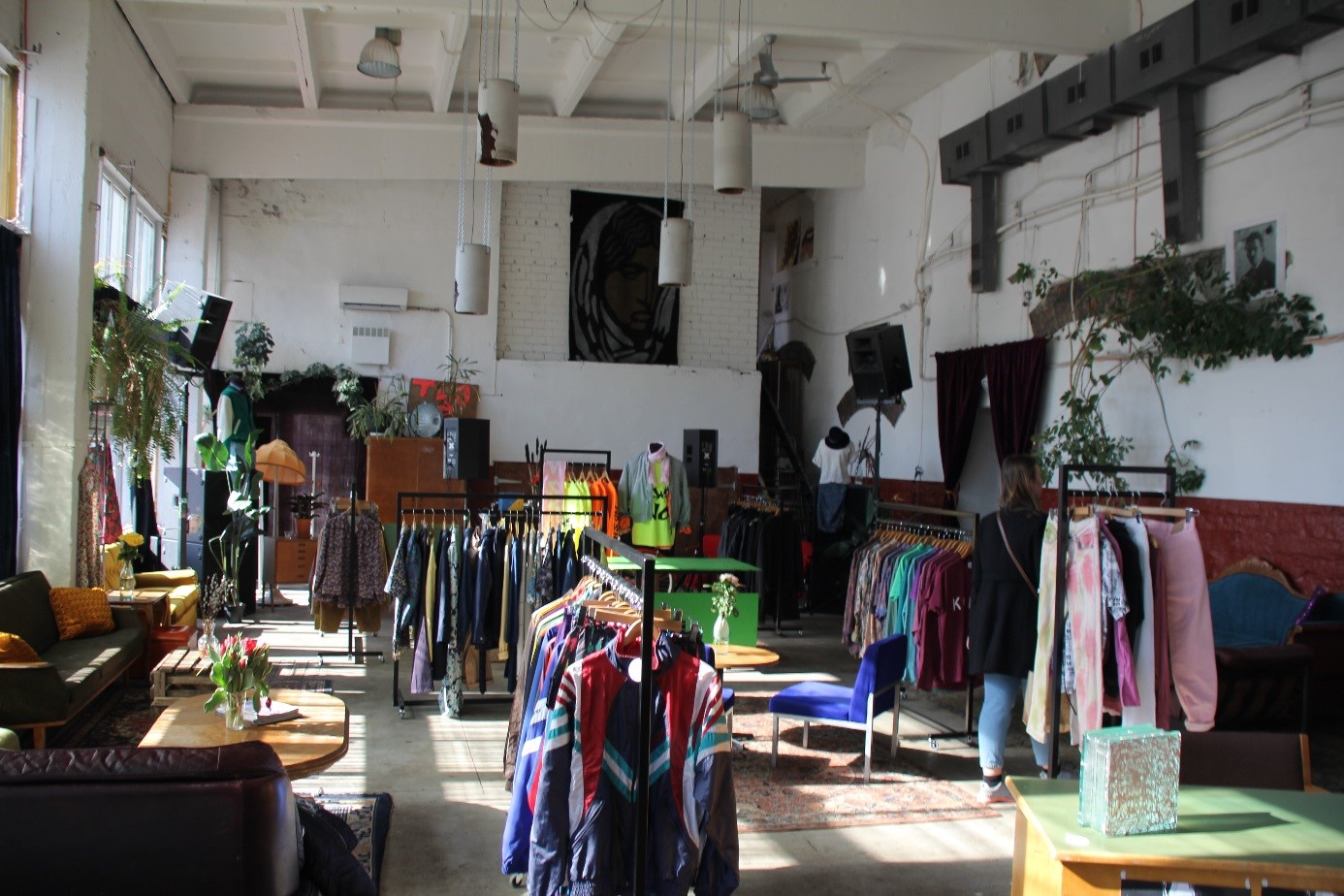 Can't decide whether to go shopping or drinking? No worries! You've found the right place. Sveta Vintage is a combination vintage shop and bar. You can have a drink while looking at some real 501 jeans. The place is laidback and relaxed, with plenty of chairs and sofas for you to kick back in.
This is a great place if you are looking for the hippest trends within vintage, but also some undying classics – Adidas tracksuits, LEVI's old school 501s, flower power short sleeves, and velvet pants. If you are into stuff from the '80s and '90s, then this is the place for you!
Sveta Vintage is located in Telliskivi Creative City, just across the railway from Tallinn Old Town. It'll take you no more than 10-15 minutes to walk here from Old Town.
And, make sure to keep the location in mind, because the space becomes a busy nightclub when the sun goes down.
Sveta Vintage has both menswear and womenswear.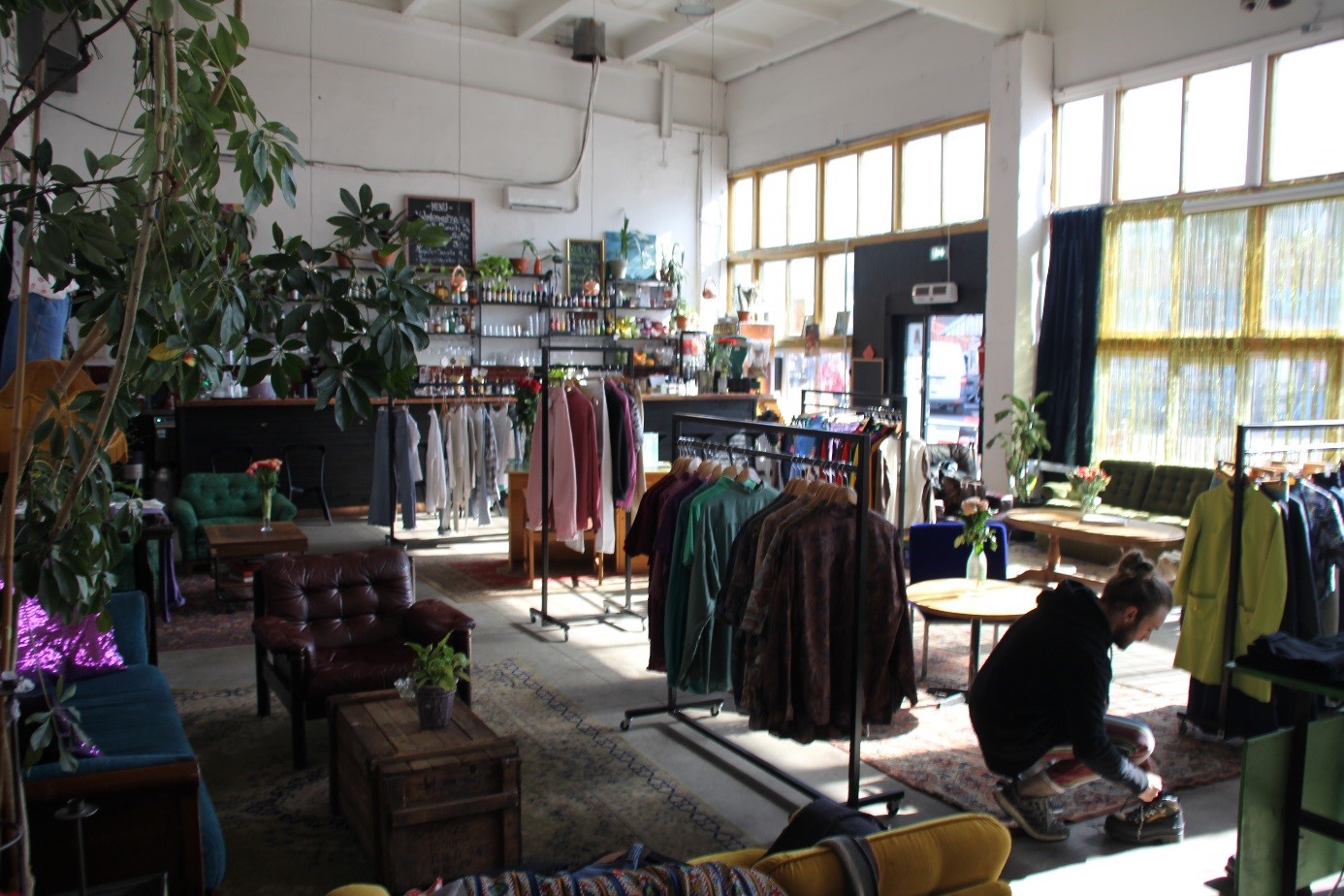 Where to find it: Telliskivi 62, 10412 Tallinn
How to get there: When you cross the railway station, go left and trough the Balti Jaama Turg. Look for the restaurant inside an old train wagon (which is impossible to miss) and Sveta Vintage is right there.
MS Vintage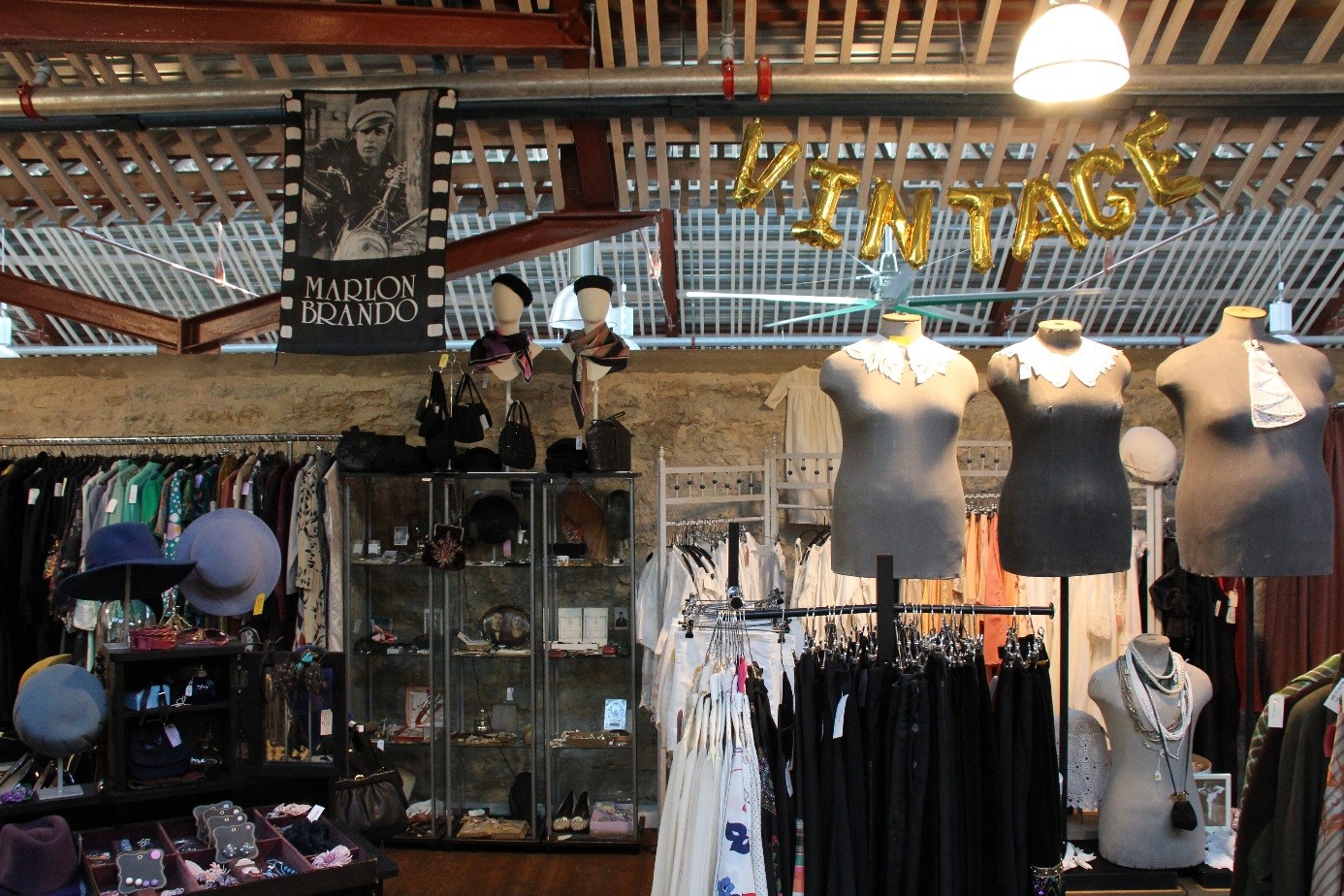 This is one of many pearls packed in the limestone warehouse now serving as the very epicenter in Telliskivi, the huge market of Balti Jaama Turg. Here, you'll find close to 300 different merchants and shops, selling everything from Estonian black bread and butter to old Soviet uniforms and antique art. Don't worry though, MS Vintage is pretty easy to find. 
When entering MS Vintage, you know you have found quality right away. Most of the clothes are sorted by color and by type, making it easy for you to go shopping. In addition, the store is sprinkled with details and effects making it lively and pulsating, and the staff there is really welcoming!
For clothing, you'll only find womenswear here. They do have, however, a wide variety of non-clothing treasures as well.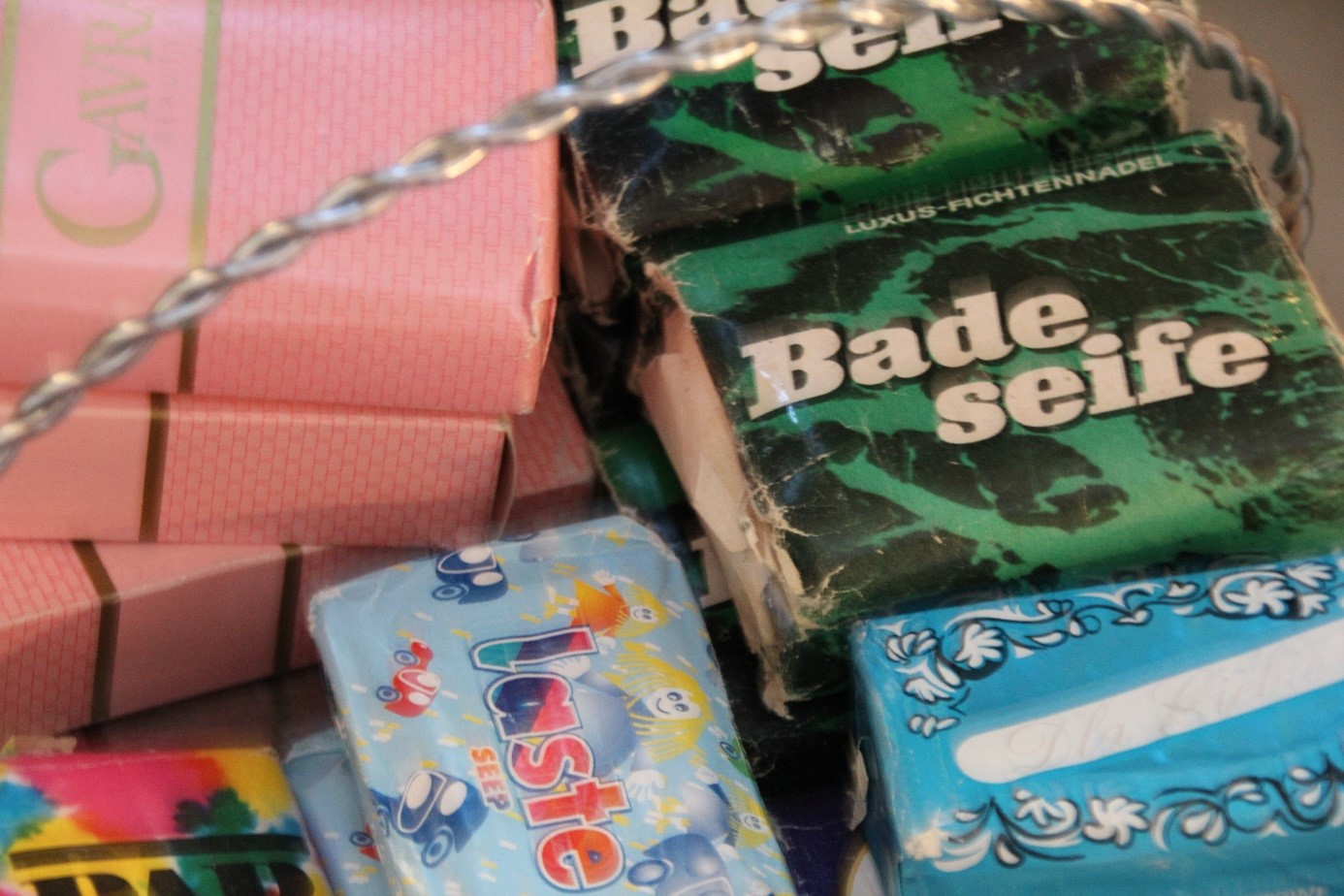 Where to find it: Balti Jaama Turg, top floor
How to get there: Find Balti Jaama Turg, which is pretty easy, and head to the top floor. It is an open shop, amidst several others. However, you'll know it when you see it, look for the golden balloon letters saying "vintage".
Kopli Couture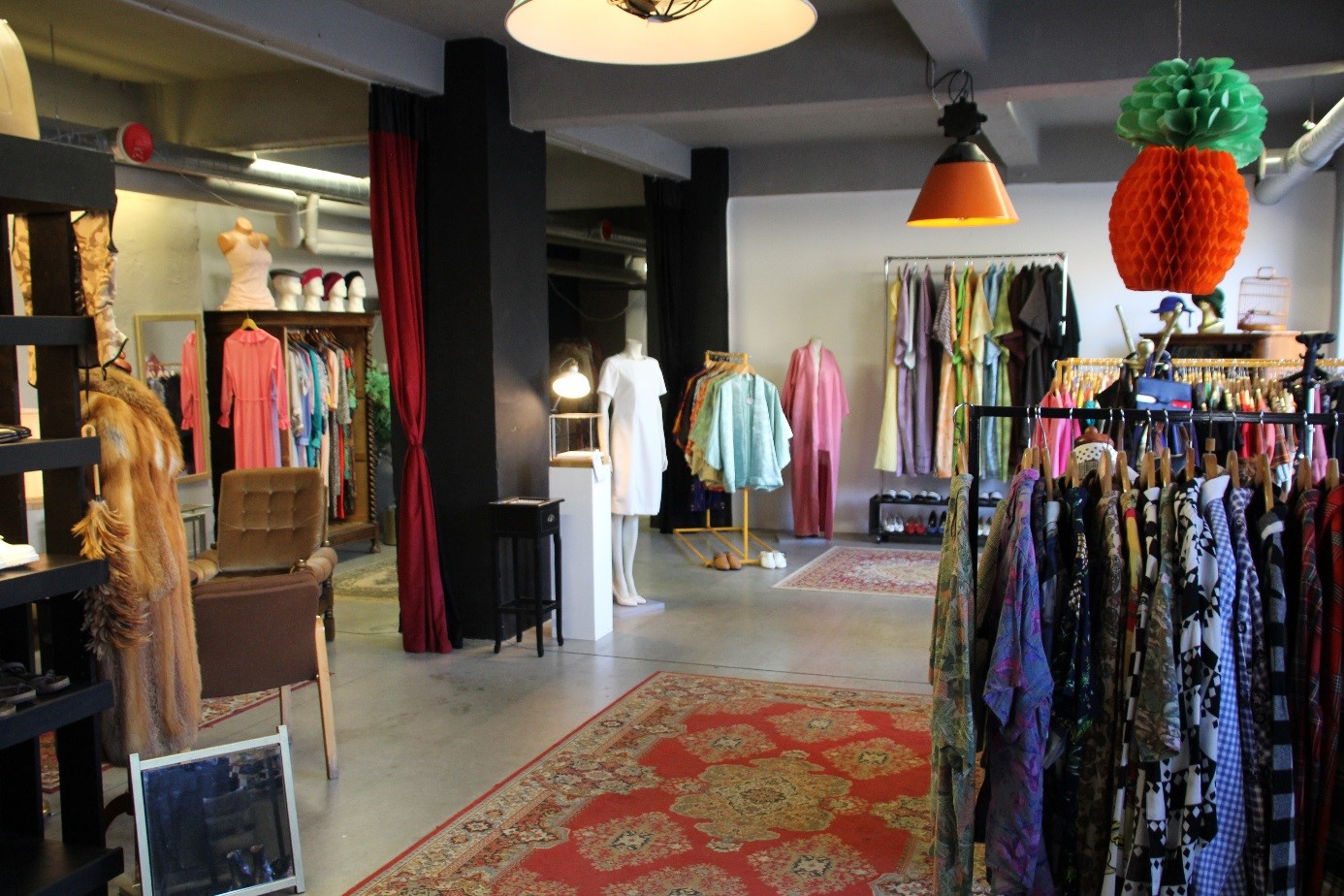 A bit far from the city, but Kopli Couture is definitely worth the trip. Looking for some sweet and crash pink, aggressive alpine skiing suits – Kopli Couture has you covered! How about a huge and flawless red fox fur? This place is a place of quality vintage and cool treasures. Since it is a bit far from the city, you might have the store all to yourself when you come.
Selling flowery dresses, trench coats, full-body leopard tights(!), classic Vans shoes, flannel jackets, and rock n' roll t-shirts, you are destined to find something uniquely cool at this place!
This is a rare pearl with a retro feel to it that you look for in any vintage shop but seldom find. 
Kopli Couture is located in a semi-open room solution, right next to a small bar and restaurant. Here, you may sit down to grab a cold drink after a long afternoon of vintage shopping.
Here you'll find both menswear and womenswear!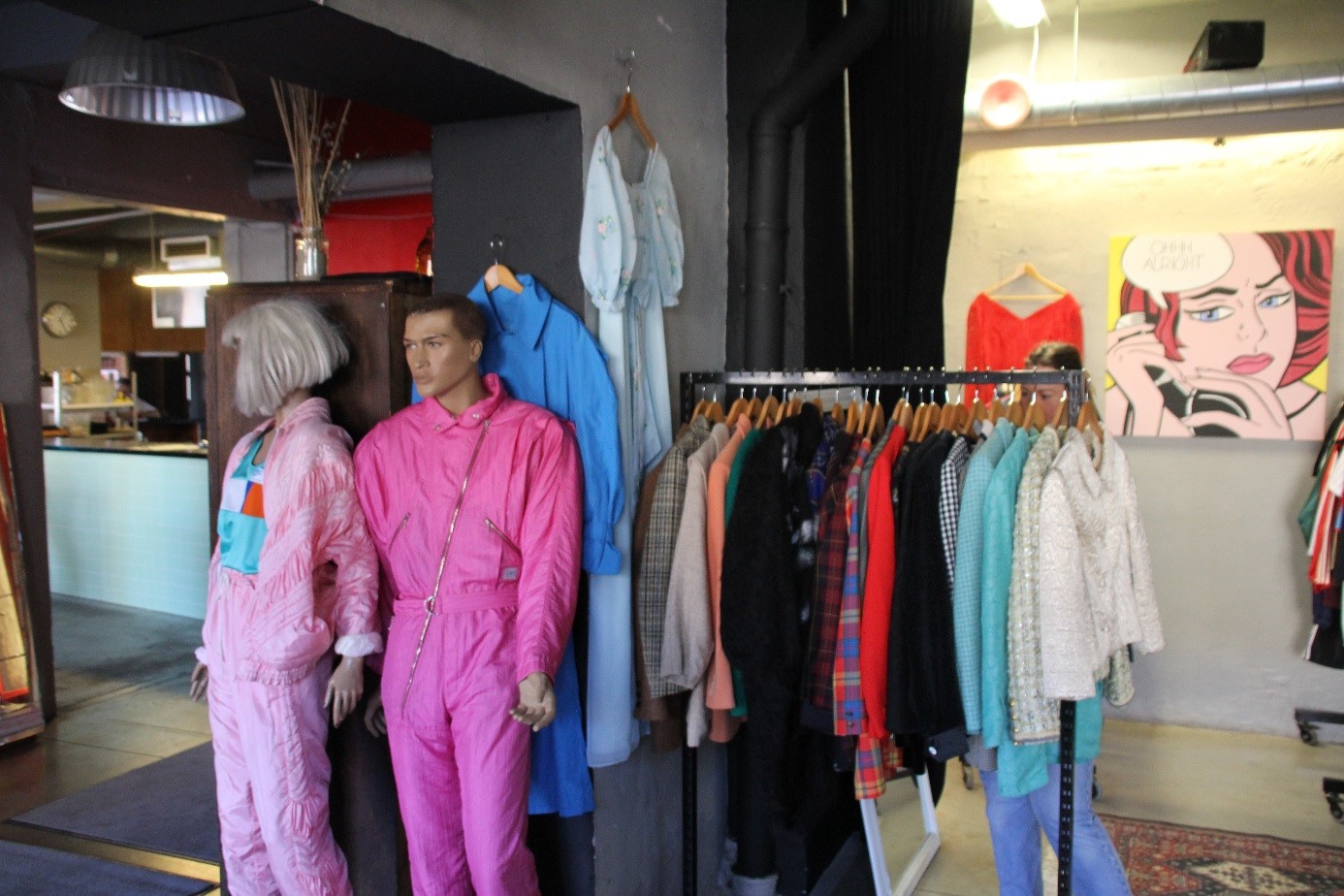 Where to find it: Kopli 25, 10412 Tallinn
How to get there: This is right in the same area as Paavli Second Hand. It is possible to walk, but we would recommend taking a taxi, tram or bus, or maybe even a bicycle!
Paavli Second Hand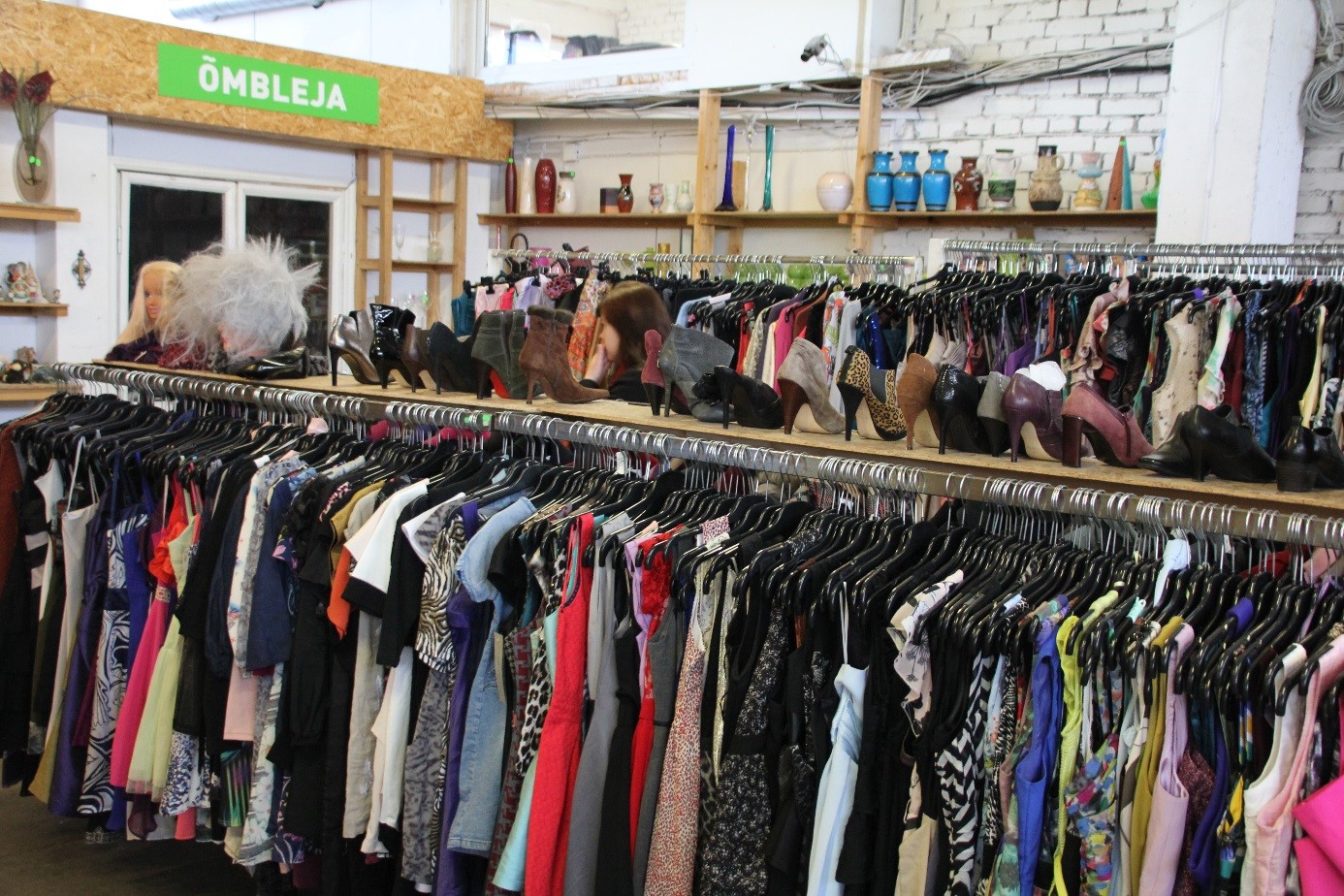 At Paavli Second Hand, you will find rows and rows with different clothing. Dresses, suites, jackets, shoes, hats, shirts, you name it! The best thing here is the prices. You will have no problem upgrading your dressing room here.
This is more of a second-hand shop than a vintage store. It's quite similar to a Norwegian Fretex, but huge in size! You can surely find some treasures here if you are willing to spend some time and look for them. The warehouse is located a bit out of the city centre, so you might as well take your time if you decide to go.
The place is located in an industrial area, which might be a bit tricky to find. However, when you see the green recycle symbol with t-shirts on signs on the walls, and the van on the one roof, you are getting close. 
Close by, you can also find the smaller vintage shop, Kopli Couture. Definitely worth the visit!
Here, you can find clothing for men, women, children, and sometimes even dogs. Good luck on your shopping adventure!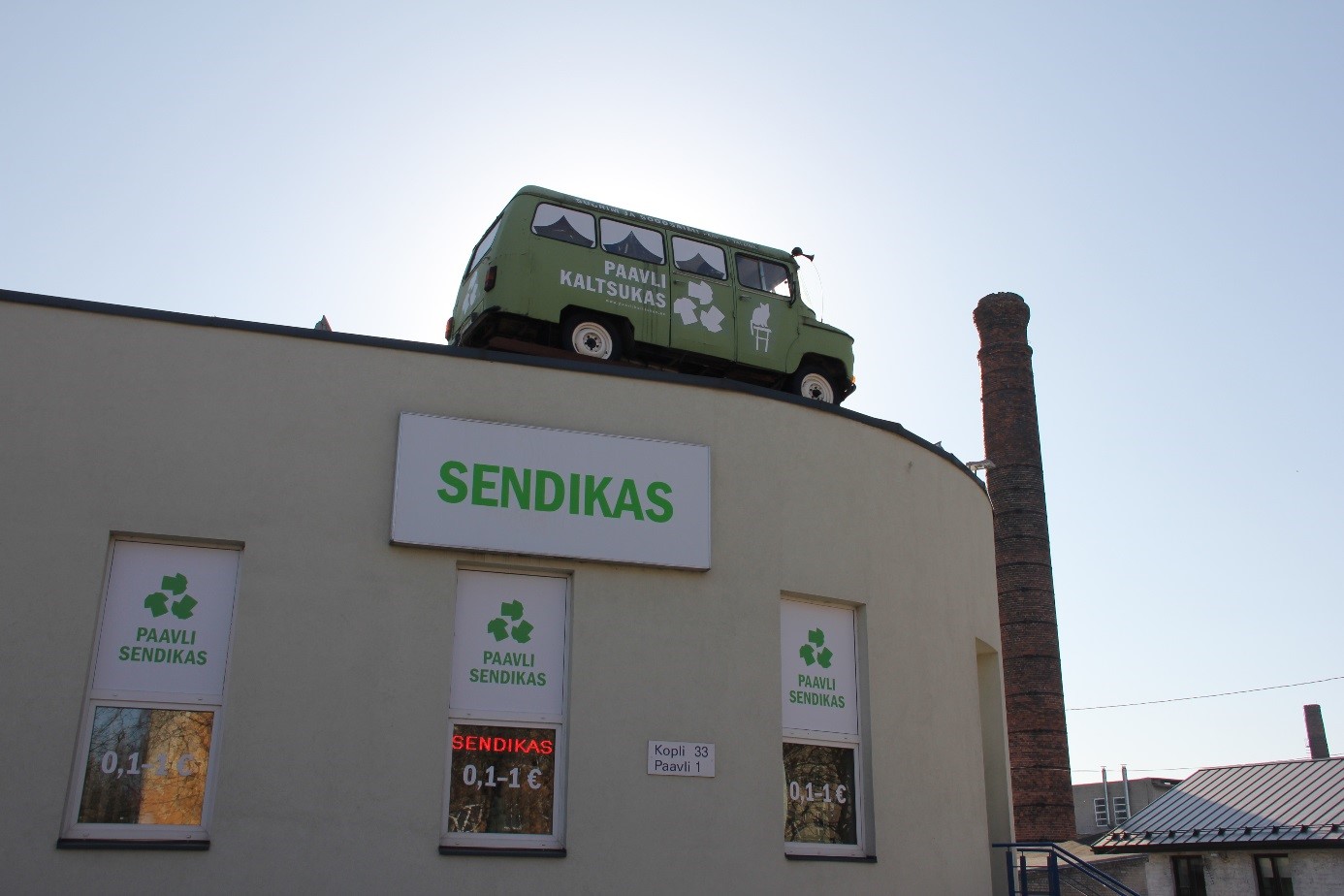 Where to find it: Paavli 6, 10412 Tallinn
How to get there: This is right in the same area as Kopli Couture. It is possible to walk, but we would recommend taking a taxi, tram or bus, or a bicycle.