Margus Sameli, who had managed the Estonian Tourist Board at Enterprise Estonia for the past year and a half, handed over his position to the current head of the e-Estonia Briefing Centre Liina Maria Lepik at the beginning of March.
Member of the Board at Enterprise Estonia Sigrid Harjo thanked Margus Sameli for his work by saying: "Margus has played his role well. He increased the strategic development capability within the team to establish better connections between tourist behaviour trends, preferences, and planned marketing activities. The export of Estonian tourism services is clearly on the rise, and I would also like to highlight his efforts related to Finland. It was Margus who initiated the Finnish roundtable to find solutions to attract Finnish tourists to Estonia in cooperation with private and public partners," Harjo said.
According to Margus Sameli, he was determined to find options to interpret the tourism sector as a field of activity having a very high socio-economic impact and greatly influencing regional economies, as well as to involve new quality to map the sector's balanced and sustainable development. The same applied to creating prerequisites for developing comprehensive solutions for visitor paths and experiences in all regions of Estonia.
"In my opinion, the Estonian Tourist Board of Enterprise Estonia has been successful in achieving these goals over the past year and a half," Sameli said. "In a rapidly changing business environment, we want to help enterprises to increase added value and be even more vigorous while involving digital solutions. I am glad that my successor is competent in these matters. I feel that it is time for me to move on, and the team can take the next steps under the management of the new director," he added.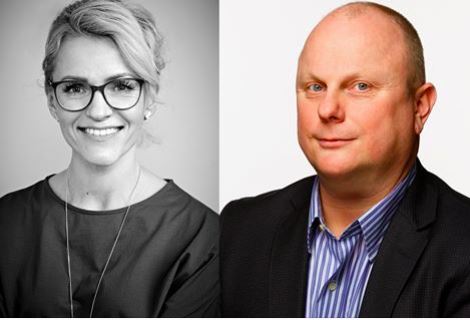 From now on, the Estonian Tourist Board of Enterprise Estonia is headed by Liina Maria Lepik, who has 12 years of work experience in the financial sector at LHV Pank. She has also been engaged in the project to build a Film Industry Hub in Tallinn. Her recent position involved the management of the e-Estonia Briefing Centre of Enterprise Estonia, which focuses on introducing Estonia as a digital state and bringing digital solutions to the world.
"I can consider the development and introduction of the new strategy of the e-Estonia Briefing Centre of Enterprise Estonia as an exciting challenge and I am more than happy to have a dedicated team in place and that the public authorities have supported our activities in every way. I am also grateful for the fact that our renewed centre is well-functioning. It has not been an easy decision to leave my current team, but I am proud to look at those bright-eyed people there and know that my job here is done," Lepik said.