Where do you go in Tallinn if you wish to experience a real, high quality full vegan food experience? It's called the Vegan V and it is situated right in the heart of Tallinn's beautiful Old Town. Inspiration for their vegan menu is found through constant travels and new experiences from all over the world, all for the love of great vegan food, all for the love of offering their guests the best experience possible, with care and passion coming straight from the kitchen, under the watchful eye of the chef Mikk Mägi. The days and evenings are always busy there and a reservation is a must if you wish to have a great vegan dining experience in this simple, yet very cozy vegan restaurant.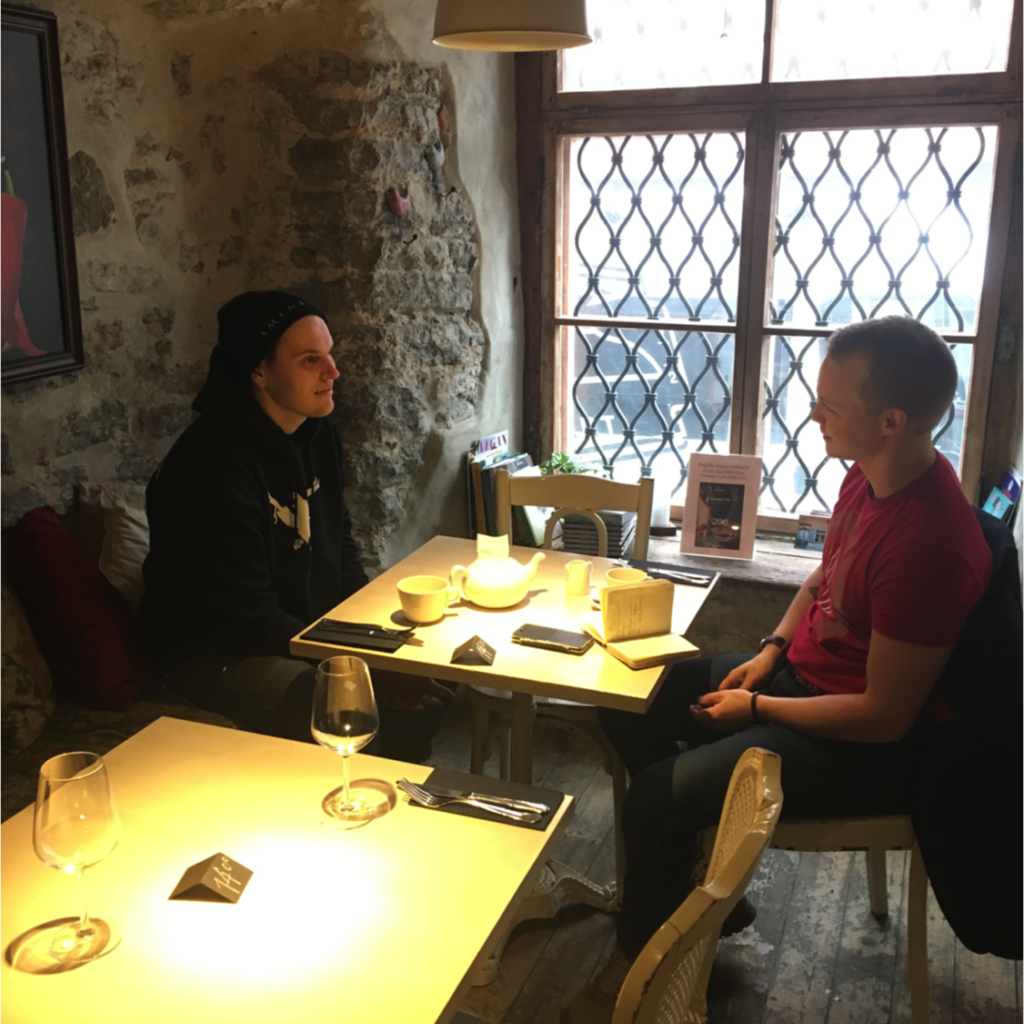 Over my time in Estonia I've noticed the weather changes quite often. And most of the time from average to worse. So it was fifteen minutes before our scheduled interview that I was hanging on the door handle of Vegan restaurant V in Rataskaevu looking for shelter from the rain. Luckily the door was answered and I was welcomed in by Mikk Mägi, chef de cuisine of V.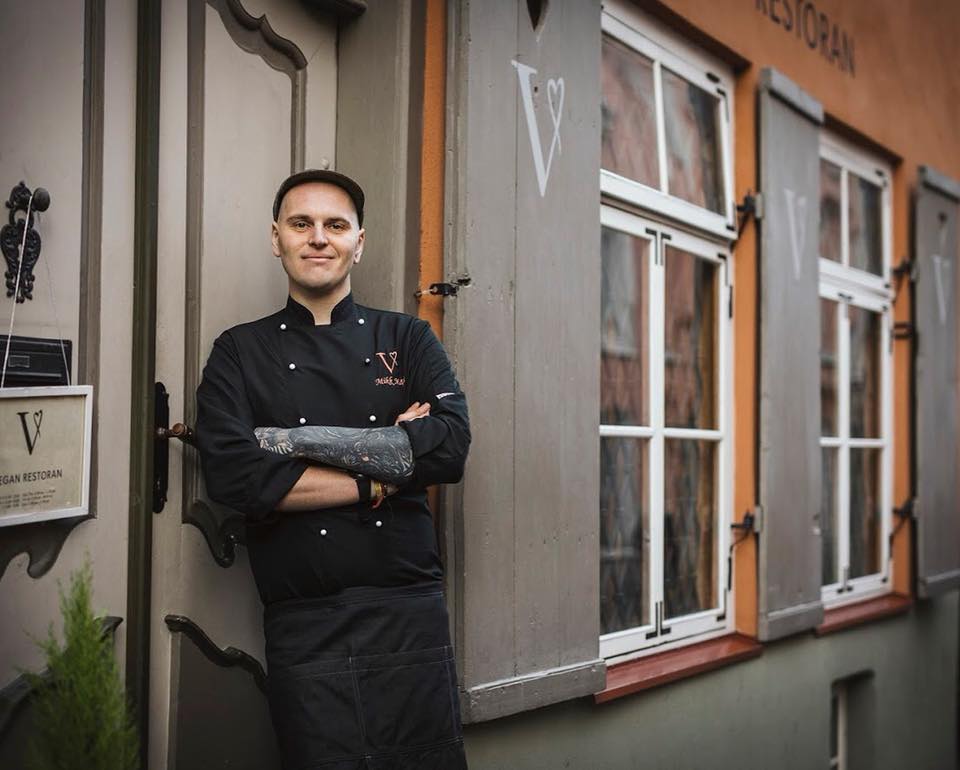 The restaurant has employed a seriously mean-looking bouncer to take care of dubious guests, like myself, and thus I found myself immediately under inspection by the little but effective security better known as "Tuut". After a while of sniffing I was allowed to enter the premises.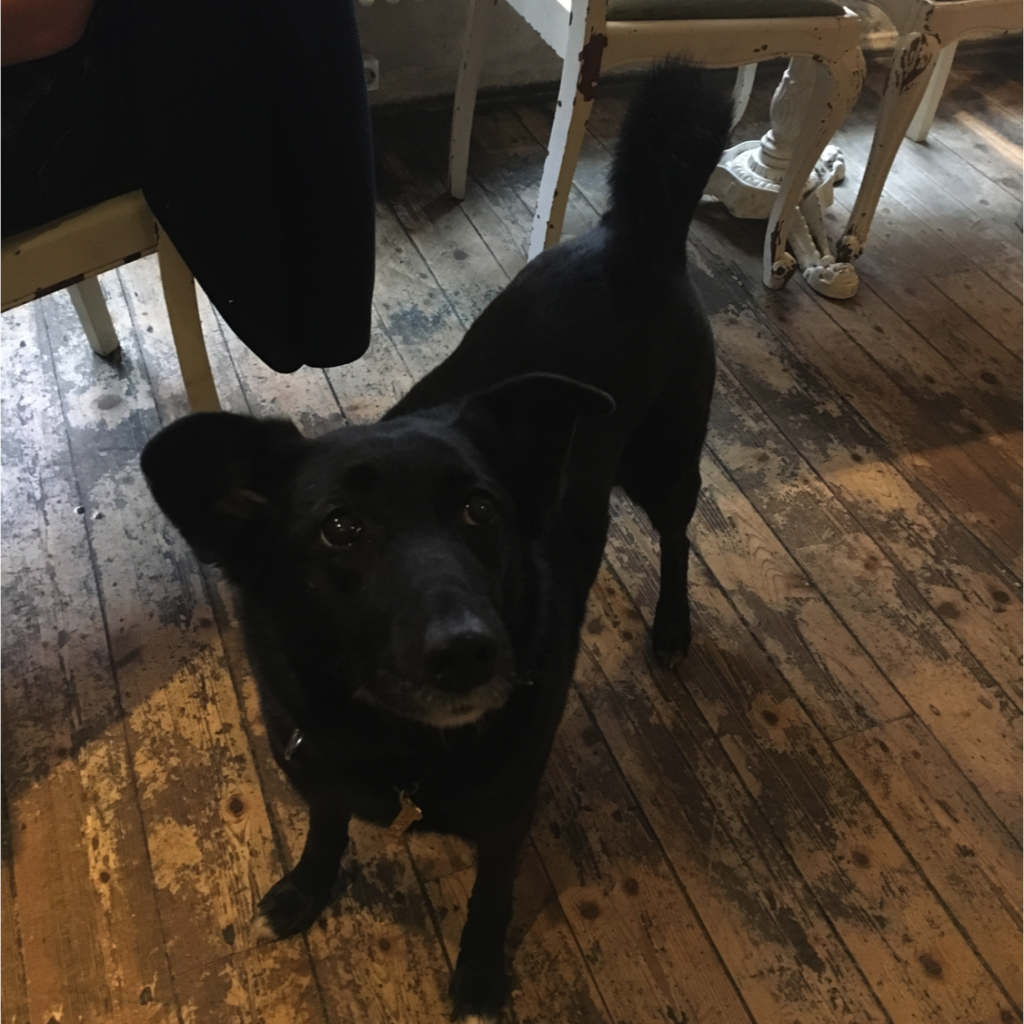 "Coffee or tea?" "Coffee, please. Do you have cream?" "We have almond milk.""Almond milk it is." Serves me right for asking a stupid question. I heard the security snort contemptuously under a chair. We settled at a corner table with chef Mägi. Tattooed hands administer tea in to a cup from the porcelain pot. The restaurant was still closed and the dining room empty. We had about 30 minutes of quiet time to enjoy. I mention that my colleague is coming over to takes some photos. "Great. Nice that I have better clothes on", Mägi nods and pulls his black cap over his ears and shuffles his hoodie.
Showing the vegan way
The last years have kept Mägi busy. Since the opening of the Vegan restaurant V it has been rock & roll almost every night. Part of this popularity can obviously be blamed on Mikk's earlier "criminal" record in the industry: a catering service and two cooking books. When the doors to V opened there was already an existing guest base swarming in to fill the tables.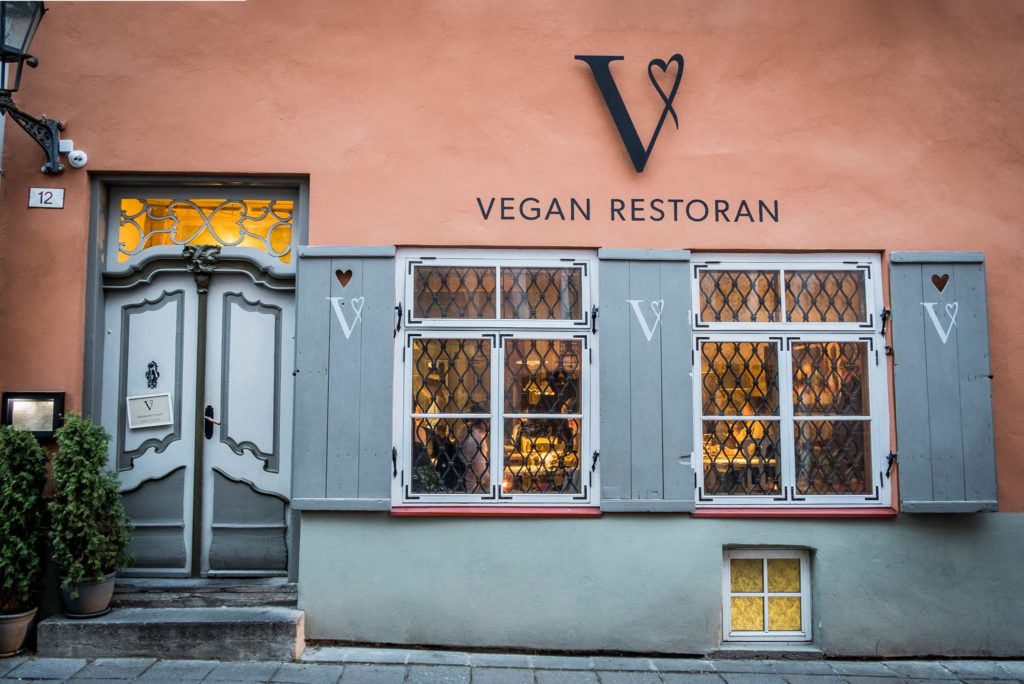 Chef Mägi says they try to satisfy the guest's needs by changing the menu twice a year.
The ideas come from all over. Mägi is just planning a trip to London to visit some of the local phenomenons. London is a horn of plenty for any style of restaurant. Another method is the mobile restaurant Mikk has: a food truck. "I like to tour festivals with it. I even went to Finland last year but it turned out as a disaster. It was raining the whole time and the people weren't in a mood for eating." Well, sounds like rather typical midsummer-fest weather. Despite the usual cycle of the four seasons, the weather is often the same on the midsummer-fest night and on Christmas Eve.
I asked whether the crowd is going to see a drive-by in Telliskivi in the summer. "No", says Mikk. "I like traveling with the truck. It brings a change.
But I like to have some free time as well." I wonder where he finds it now among the catering business, the restaurant and the truck so I inquire what he does on his free time. "I like to eat in Noodle Box and also Mimosa is a nice place, even if it is outside the town. I also went to try Ö's vegan menu. It's super!"
Chef Mägi said he even trialed the McDonald's vegan burger: "It is funny that the vegan hype has made even such a monstrosity as McDonald's to include a vegan option in its menu. "And the taste? Well, pretty much everything is OK when you put enough sugar in it.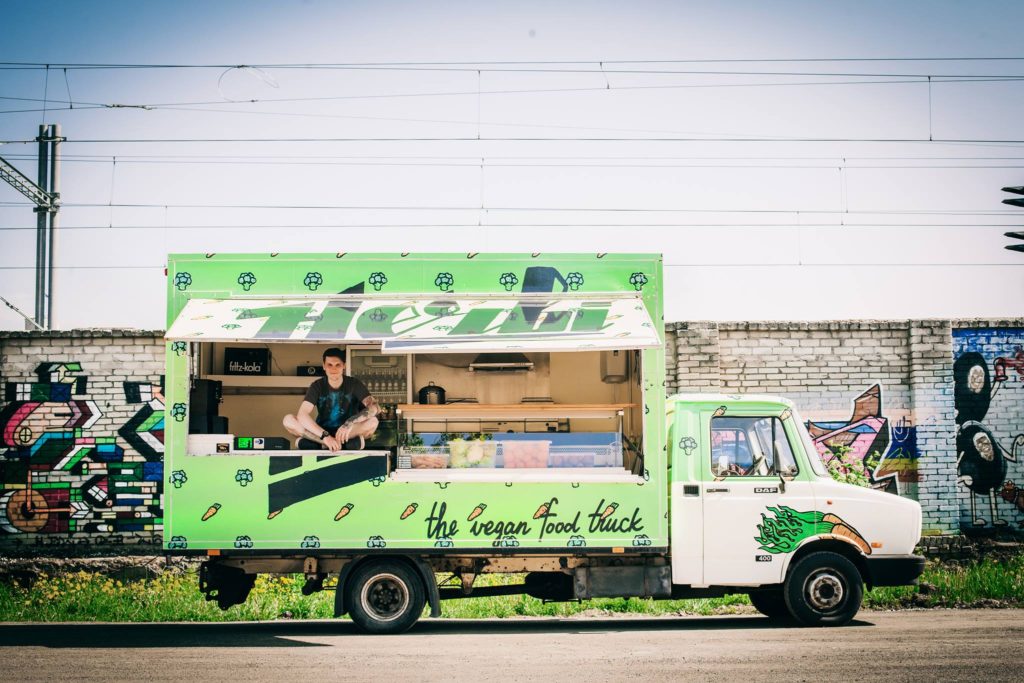 Stability in the vegan trend
So far the Vegan restaurant V has been able to reign freely among the better vegan restaurants. Most other places are either cafes, buffet places or fast foods. I asked Mikk how he feels V can hold and edge against possible competitors in the future. I mean nothing keeps people back from opening a copy of a well doing establishment. "I don't see a problem. Instead of competition I'd like to have cooperation. It's better to have more people come to vegan restaurants", says the preacher man. Mikk started as a vegetarian some ten years ago.
Times were a bit different back then. When he became a vegan it was that the atmosphere changed completely shortly after. "I think were are on the high point of the linear at the moment. There was a boom some years ago but now the trend has stabilized." One can deduct the ecosystem would not hold too many more restaurants offering the same service without suffering inflation.
Found it interesting? Read the full story!
Chef Talks is a new Silverspoon Awards story series dedicated to introducing the hearts of every restaurants kitchen, the Chef's and giving the readers a chance to learn more about the Top Chefs in Estonia.