While Covid-19 is still with us, all travellers need to address questions of safety. How to be sure that the restaurant you have chosen for dinner is doing everything to keep their guests safe? Where is the cleanest and safest place to sleep? Finding answers has become a lot easier. Just keep your eyes open for the "Covid-19 Safe & Clean" ("Siin on turvaline") label when choosing a spa, restaurant or hotel.
"Covid-19 Safe & Clean" is a consumer label which's aim is to guarantee safety both for the visitors and for the hospitality staff. The label can be obtained by all responsible cafes, bars, restaurants, spas and accommodation providers attesting that they comply with all the instructions prescribed by the Health Board of Estonia for the prevention of the spread of Covid-19.
All institutions applying for the label have to take part in the Visit Estonia webinars and review their sectoral guidelines. An institution loses the right to use this label if they receive complaints about violations of the agreement and when the issuer of the label has identified a violation.
What does "Covid-19 Safe & Clean" stand for?
Various Estonian destinations and companies have already started using the "Covid-19 Safe & Clean" label. Seeing this label displayed by a spa, restaurant or accommodation provider means that you can be sure that this particular establishment
the visitor's code of conduct and information on the Covid-19 virus prevention activities implemented by the service provider are available for all clients;
all employees are aware of the guidelines for preventing the spread of the virus and follow them in their daily work; 
the indoor ventilation system is working properly;
there are enough disinfectants, they are available in places visible to everyone;
frequently touched surfaces are cleaned and disinfected regularly;
employees and guests are required to wear a mask or alternative personal protective equipment in accordance with applicable national regulations; 
the possibility to maintain the necessary distance both with each other and with the service providers is ensured;
people with signs of illness are not allowed to be in public places or in the service area;
people who have come into contact with a client or employee with signs of illness are informed of the exposure without disclosing personal data.
Keeping this label means constant work since the establishment loses the right to display it when they have violated the rules. In other words: when you see this consumer label, all precautions have been taken to make your visit as safe as possible.
Consumer label visuals
As the labels are issued by tourism development associations representing different Estonian regions, the labels may differ visually across the country. However, the message on them is always the same: "Covid-19 Safe & Clean" or "Siin on turvaline".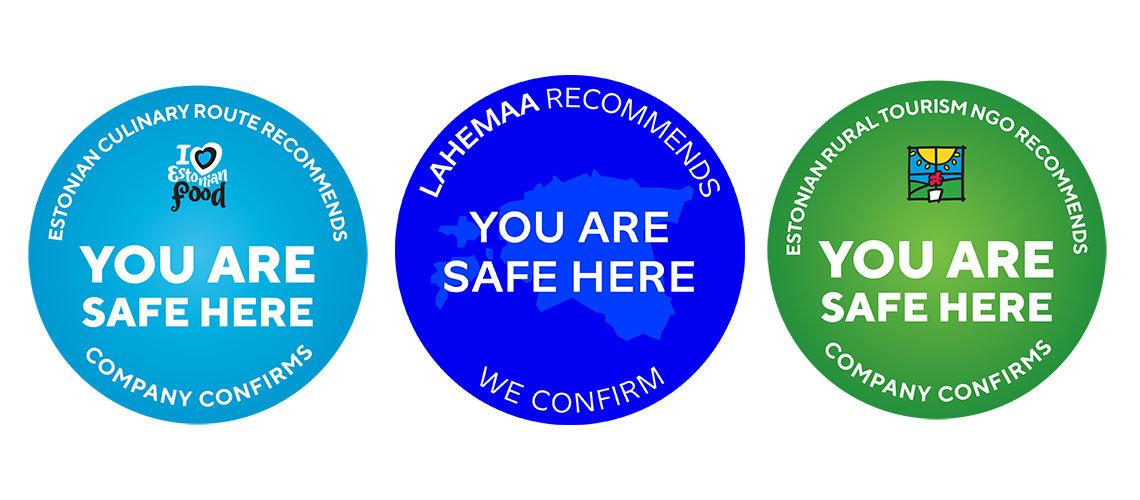 From spring 2021, you can also search for different labelled companies and establishments directly from the visitestonia.com or puhkaeestis.ee database.
Find companies with the consumer label below!