Since childhood I have picked berries in the forests of Pärnu County every summer. My mother wanted for my brother and I to always eat fresh blueberries in the summer and delicious blueberry jam in the winter. When I grew older, I went to the forest alone to pick blueberries, and could spend a whole day there.
Nordic blueberry is special due to its intense taste. Blueberries grow everywhere and I have tasted blueberries even in Sardinia. But these are not comparable to our special blueberries.
My blueberry recipes are really simple. Make a meringue cake, meringue roll or Britta cake with good cream, which has not been completely whipped, and serve with blueberries. Even more simple dessert is classical panna cotta, which is not served in a cup or bowl, but whipped in cream siphon with two gas cylinders. When you add fresh blueberries and mint, the result is wonderful!
Here are three recipes cooked up in Cru's kitchen with something for every taste, whether you have a sweet tooth, want to combine sweet and salty or simply enjoy a refreshing cocktail on a hot summer's day. Enjoy!
Salmon marinated in blueberries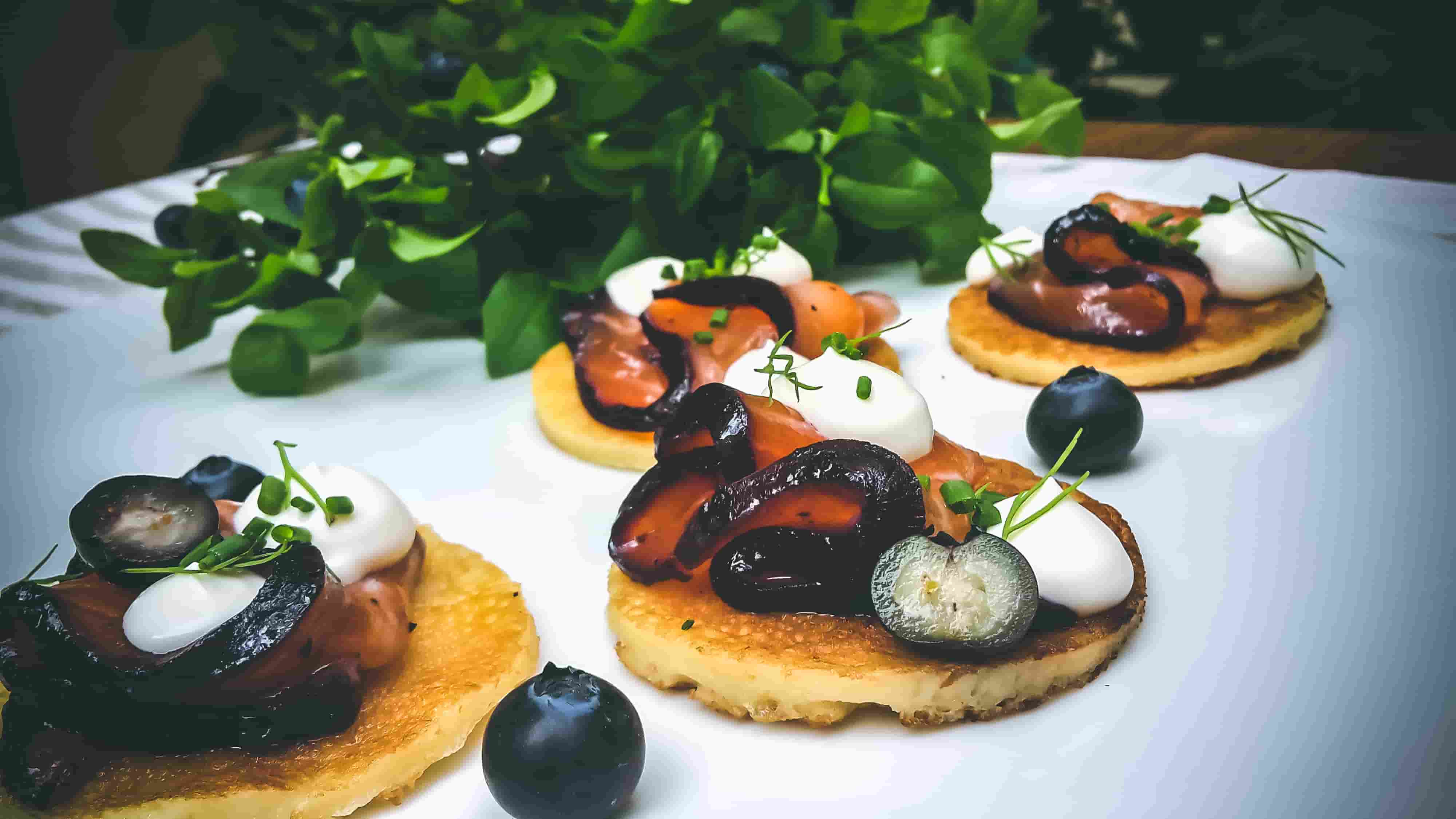 1 large salmon fillet
Handful of blueberries
Fresh horseradish
Handful of sea salt
Pinch of sugar
Put the blueberries and sugar in a blender and add some grated horseradish. Salt the fish and pour the mix on top. Leave it to marinate for a couple of hours. Serve with fluffy crepes and Saare smetana, 20% sour cream from the island of Saaremaa.
Blueberry meringue roll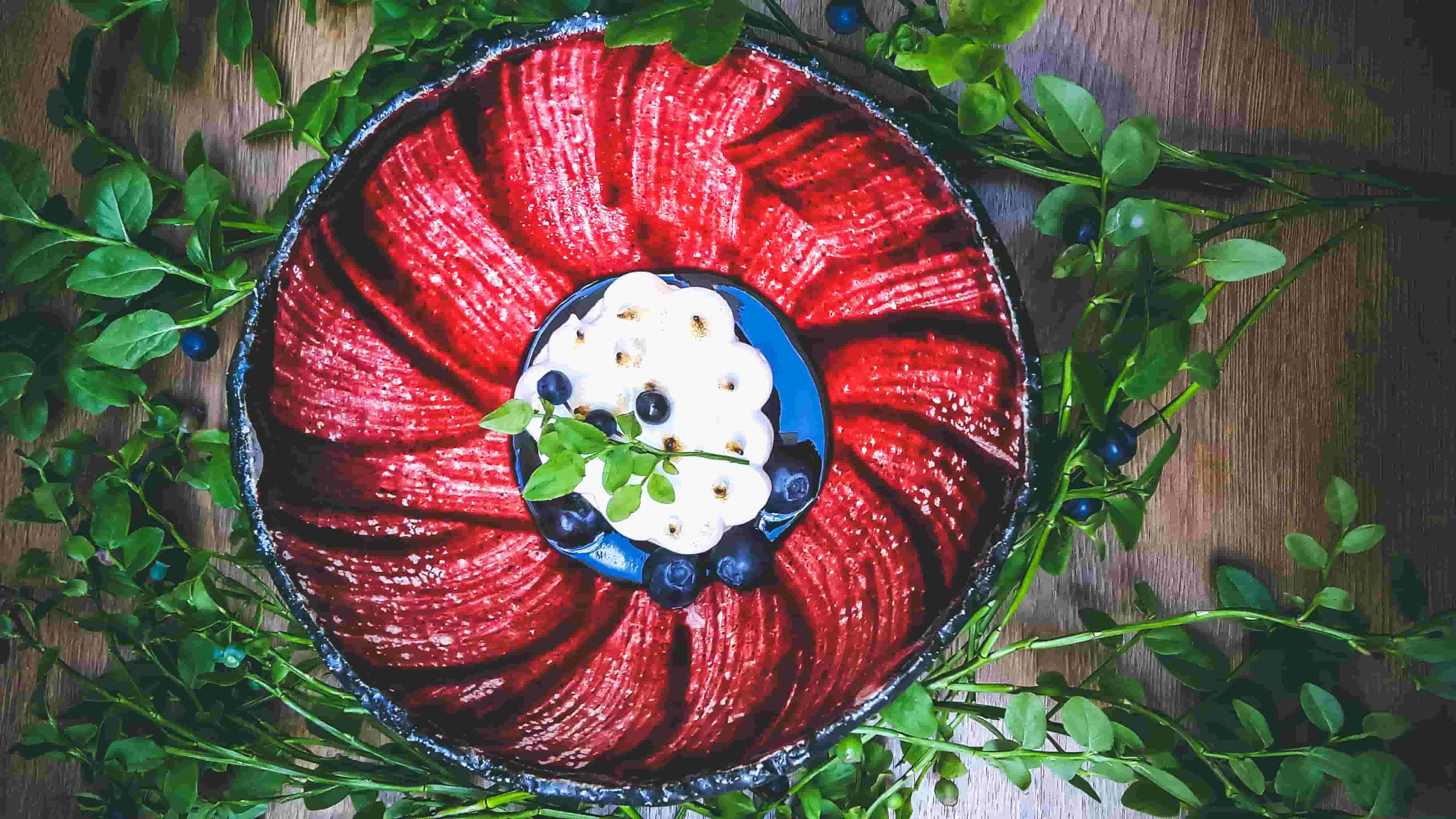 Meringue
4 egg whites
150 g sugar
1 tsp cornstarch
1 tsp white wine vinegar
pinch of salt
Filling
300 g Philadelphia cream cheese
50 g of double cream
10 g egg white powder
sugar
Blueberry jam
400g blueberries
sugar
Decoration
100 g water
100 g sugar
Beat the egg whites with a pinch of salt until it turns into thick foam. Then add sugar.
Add the vinegar and cornstarch, and spread the mix evenly on an oven plate covered with baking paper. Cook in the over in 160°C heat for up to 15 minutes. Move the sheet of meringue to a clean baking paper.
For filling, combine cream cheese and double cream with some sugar. Spread the filling on the meringue and roll gently. Leave the roll in a fridge for a couple of hours.
Heat the blueberries on a pan with sugar. By using a hand blender, work the mix until smooth. Then put the mix through a sieve.
For garnish, blend water with sugar and egg white powder into solid foam. Put the mix in a pastry bag and decorate the roll with small dots. Slightly toast the top with a small gas torch.
Refreshing summer cocktail "OUT OF THE BLUE"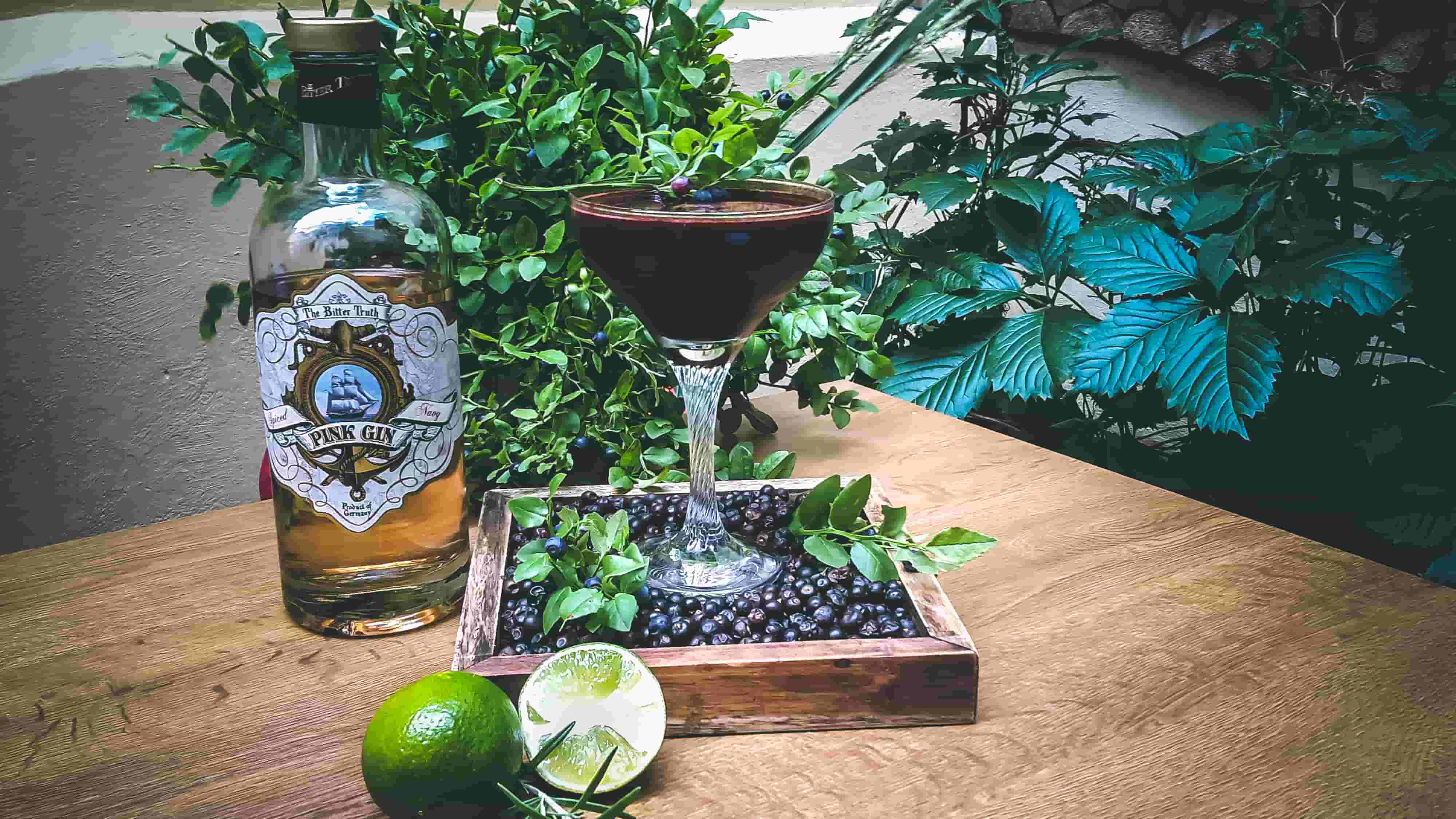 4cl The Bitter Truth Pink Gin
Fresh rosemary
6cl of blueberry juice
1cl lime juice
3cl sparkling water
Blueberry branch for garnish
Place a small rosemary branch in the bottom of a cocktail shaker by pushing gently. Fill the shaker with ice. Add juices and gin and shake thoroughly. Add sparkling water and shake again. Pour the cocktail in a frozen Martini glass. Add blueberry garnish.
Read more about what fans of Estonian foods have to say about the local ingredients on I love Estonian Food website